WantedDesign takes you around the world and through the Americas showcasing the best established and up-and-coming designers that the industry has to offer. Take a look at what we spotted as we made our way through this year's exhibition.
What do you do with old bicycle inner tubes? Sophie Hones, of DesignLaboratoire, recycles them and wraps them around an inflatable ball to become bouncy ottomans called CYQL.
Savage Works incorporates nylon rope for handles on the Plug Table so they can easily be moved around. They can also be used as stools or ottomans.
The Emergency Bench is a flat-pack, three-person bench that was designed by Jamie Wolfond. It comes with a welded Hypalon inflatable cylinder, bronze castings, and nylon straps that easily assemble into a durable bench.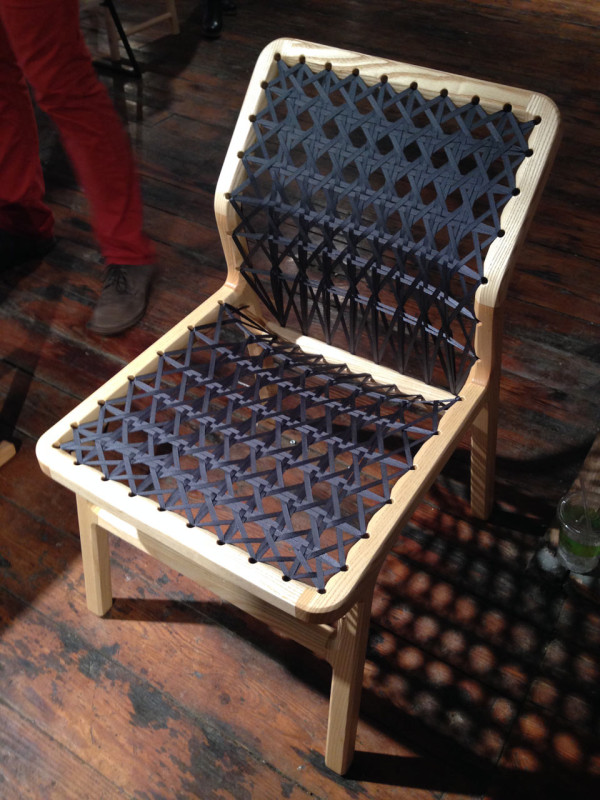 Using CAD, CNC machining, and caning (or weaving), the Rand Chair, by kem3D, merges traditional craftsmanship and modern day techniques.
ILEX launched The Portfolio series at WantedDesign this year and it's a series of new lights from partnerships with designers. These are from Mick Ricereto.
Also from the ILEX collaboration, these pendants, designed by Chris Poehlmann, are a different direction for the lighting designer.
At the Design in Puerto Rico booth, we loved these diamond-shaped plant vessels called Meteoro that were designed by Vladimir Garcia.
Also part of the Design in Puerto Rico section are these polygonal wood and textile laminate floors that look like modern parquet flooring but are flexible. Designed by Marxz Rosado Rios.
At the México Territorio Creativo booth, Fernanda Velasco Coello showed graphic pillows with classic Mayan art on them.
This really cool side lamp from Azambourg Studio is made of four laser-cut poplar plywood panels that are wrapped with polyester by hand.
We've featured Studio Avni before and they're back with a sculptural line of lights called the Fin series. The metal fixtures have fin-like scales that make them resemble marine creatures.
And last, but most definitely not least, there's 13&9 which simply rocked our world. This Austrian company cranks out geometric bags, jewelry, sunglasses, lighting, and furniture that we're still lusting over and wishing we owned.
See our coverage of the WantedDesign Student Workshop here and stay tuned for a wrap-up video!