Matt W. Moore and Kristofer Wilfert are the brains behind GLYPH CUE CLOTHING, a company that produces cool graphic apparel you'd actually want to wear. Moore covers the art & design while Wilfert handles the business aspect, and together, they're building a brand to explore timeless designs that are dedicated to a color palette and theme each season. For the Winter 2014 Collection, Moore took inspiration from nautical and navigational iconography for the collection that includes four hoodies. For this month's Deconstruction, we visit Moore's design process through the printing phase to see how the garments came about.
Knots and rope always remind me of the sea and sailing. For this design I decided to try to make two continuous knots that took the shape of the 'G' and 'C' of our brand name. Sketching out a few different configurations helped me realize the best way to design the interlocking vector design.
The process of mixing colors, burning screens, registration, printing, and drying. Big thanks to Dom at The Arm Factory in Portland, Maine for his hard work and attention to detail over the years with all of our collections.
Glyph Cue : G C Knots
This idea was on my brainstorm list for years, so I was excited to finally bring it to life. I used the nautical flags, that each correspond to a different letter in the alphabet, to spell out our brand name in a cryptic diamond graphic. The square not in the center fit perfectly.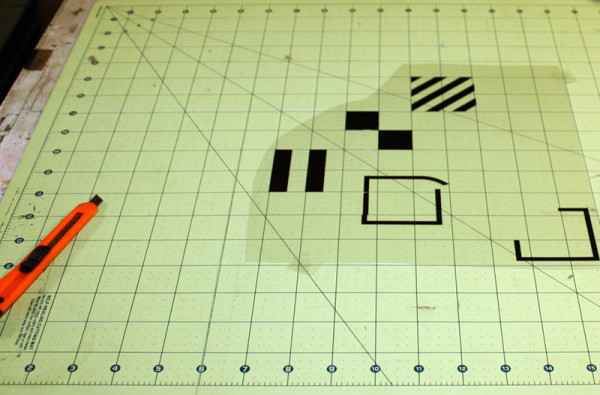 Coordinating the registration in the lab. It becomes a science project when screen-printing 5 colors, onto a thick fleece hoodie, especially for a design like this that requires such exactness. The old school way is the only way.
Glyph Cue : Nautical Flags
For this typographic design I created an aerial view of islands that fit together to spell out 'Glyph Cue" in a somewhat camouflaged way. For me, starting out with pencil and eraser is crucial for freeform designs like this. Once it was to a point of good balance and legibility I scanned it and manually vectorized the blueprint.
Crispy details of the aquatic aesthetic. Double inked to stand the test of time, sunshine, salty air, and the inevitable tumble dry.
Glyph Cue : Island Time
The compass is a symbol I have revisited many times over the years in my graphic endeavors. When surveying a new map for directions I often realize I am studying the compass rose design before I even locate where I am. For this design, I created nine different graphics that each speak to navigation and coordinates. There's even a spider web in there as a reminder of the importance of staying true to course.
Details of the hairline pop yellow on royal blue ink print. The contrasting colors help this design jump right off the garment.
Glyph Cue : Navigation
High five fist bump to Kris, my business partner on this project, Dom, our reliable and knowledgeable printer, and a sincere thank you to all of the fans and supporters out there who keep us thinking big and hustling hard. These first 5 years have been a fun ride and we are grateful for all of the assistance we have received along the way to get our garments into new markets around the globe. Stay tuned to GlyphCue.com for our Summer 2014 Collection.