Have you ever looked at your recycling bin and wondered how much of its contents are actually being processed and repurposed? Gomi, a young Brighton, UK-based design studio, noticed how trendy recycled plastic was becoming in the design industry, as well as how well-designed consumer technology was being left in the dust. Major brands have been sticking to a traditional buy-consume-waste model, rather than looking towards the future. We spoke to product and process designer, Tom Meades, about how Gomi took that seed of a thought and set off to try and prove the possibilities of working with recycled waste materials.
Tom told us that Gomi's work has always been inspired by Japanese minimalist design and pure forms. The word 'gomi', meaning 'waste' in the Japanese language, made for a moniker that pays homage to those influences. When paired with the brand's vibrant colors and fun minimal designs, the name Gomi helps to create a culture that follows suit.
Having worked with recycled materials while completing his degree project at The University of Brighton, Tom was inspired to create a series of products that acted as agents of change, proving the potential of waste materials by turning them into beautiful, desirable pieces. His project garnered some media attention, and after graduation he teamed up with the other three team members: Rishi Gupta, Kyle Brackenfield, and Pawan Saunya to take things to the consumer level.
Gomi started simple, creating a website that would serve as their all-in-one hub. Squarespace's website building platform was their first choice due to its affordability and flexibility. "Squarespace really cares about design and usability," Tom says, sharing that they liked their ability to create a beautiful site with the help of well-designed templates. "Squarespace serves our needs very well, as we are also design-led. They help to convey our love for great design through our website."
The website, pictured above, incorporates Squarespace ecommerce functionality, which includes everything from robust analytics functions, Google keyword integrations, seamless checkout experience, and mobile apps that notify their team of sales. "Squarespace is a complete system for anyone starting out, and it serves us well."
Tom has been a fan of the email marketing tools offered by Squarespace. "There was no email marketing builder that offered beautifully designed, easy to use email – and hallelujah, Squarespace has done an amazing job!" he raved. "It gives us such great joy due to the ease of use and how clean and professional the end result is." For a brand like Gomi, email marketing has been crucial to how they interact with fans and customers, and the communications are an essential part in keeping users up-to-date.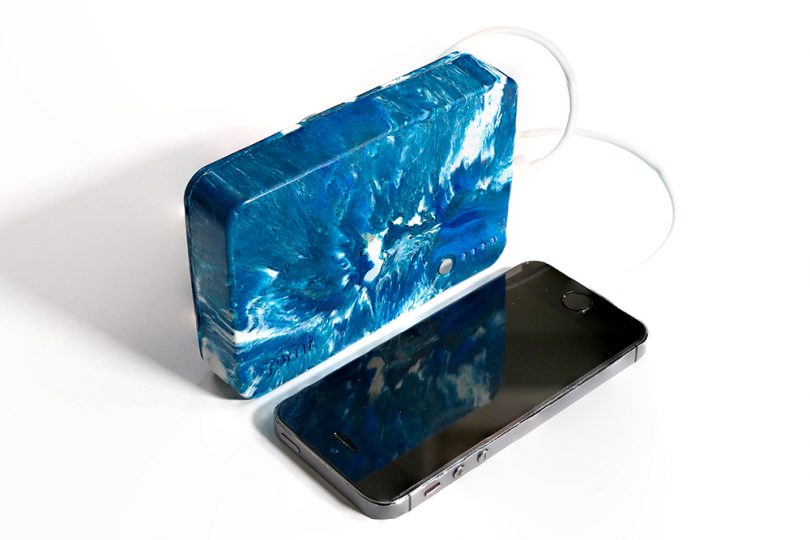 "Over the past 9 months, we have diverted around 500kg of 'non-recyclable' plastic packaging waste from going into landfills. With our new Portable Chargers, we hope to introduce an affordable, fully-circular product built from recycled plastic material and repurposed batteries," Tom said of Gomi's core product, pictured above. He says they can increase this amount more than ten times over in the coming year, helping to clean the planet of pollutant waste streams, while also creating fun, everyday products that people love to use.
One of Gomi's goals is for their customers to keep and enjoy their products for as long as possible. Since each item they manufacture has its own colors and patterns, their hope is that people will see it as something uniquely created for them. And when the time comes to replace the product, they simply return it to Gomi for the materials to be reused yet again.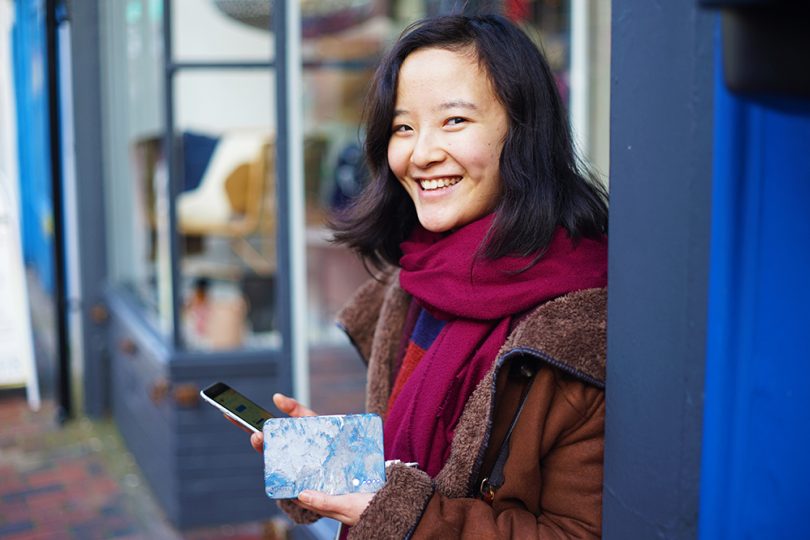 The portable speaker, Tom says, was inspired by the desire to prove the value that waste could have while making a fun and functional product – one that could sit around the house but be "an object you're precious about." They started the process by exploring designs for a high-end loudspeaker.
"We thought that by making a product that looked great, sounded great, and had a personal story, then people might begin to form a relationship with the product, which would stop them from thinking of plastic waste in the same way in the future," Tom shared.
Tom says that they stuck to a few basic principles during the design phase of the Portable Charger. It needed to be big enough in battery power to keep a device changed for long periods of time without needing recharging itself, and it needed to be slim enough to fit in your pocket. Each one should feel like an original work of art. And the manufacturing needed to take place in house at their Brighton workspace, benefitting the local economy while lowering their carbon footprint by avoiding long distance outsourcing.
The outer casing of Gomi's Portable Charger is made from molten non-recyclable plastic waste streams, such as LDPE (low-density polyethylene) and HDPE (high-density polyethylene) packaging, that is then kneaded into a marble-like surface pattern that can be compressed into Gomi's molds. Each Portable Charger is easy to disassemble back into raw materials after use, making upcycling simple.
Gomi's larger mission is to redirect global waste streams into iconic design products, beginning with their high-end Bluetooth Loudspeakers. Now they're scaling up to create more accessible products at a more affordable price point. In addition to proving the positive potential of redirecting waste, their sustainable consumer technology has helped create relationships between technology and user, taking a fresh perspective on sustainability in the process.
"We control every stage of the process, from material collections with local businesses to hand finishing, soldering, and fulfillment of our finished products," Tom says. "This means that we can work locally and build relationships within the community, address real life waste streams, and adapt and develop our processes to ensure that we are able to convert different types of waste materials." Gomi also continues working with larger waste recycling companies, many of whom serve as a testing facility for non-recyclable materials to make them into one off objects and prove the value of a material.
Tom says every project at Gomi is led by one clear question: "How can we turn pollutant waste materials into cherished products that people will love using everyday?"
With their new Portable Chargers available for order in the Design Milk Shop, Gomi is on the move towards future projects. They're currently working with an architecture/interior design company on bespoke furniture pieces designed for specific spaces and made from construction site waste. Tom said they would love to collaborate with another large tech company in the future on something unique that promotes sustainable design.
Looking further towards the future, Gomi hopes to grow their team while keeping their Brighton studio as the heart of the brand. One large goal is to work closely with other cities around the world with devastating amounts of plastic waste that are impacting their communities. Tom explained their vision, "We see Gomi really helping communities and businesses to come up with creative solutions for their waste. Our love of creating beautiful, useful electronic products out of waste will mean that we will be introducing many more essentials."
Ready to bring your idea to life and get to work on your own website? Take the first step with Squarespace and get 10% off your first website or domain when you use coupon code DESIGNMILK at checkout.
Photos Copyright Gomi Design Ltd. 2020.