Goodfit Puzzles Champions Great Art, Culture, Causes + Connections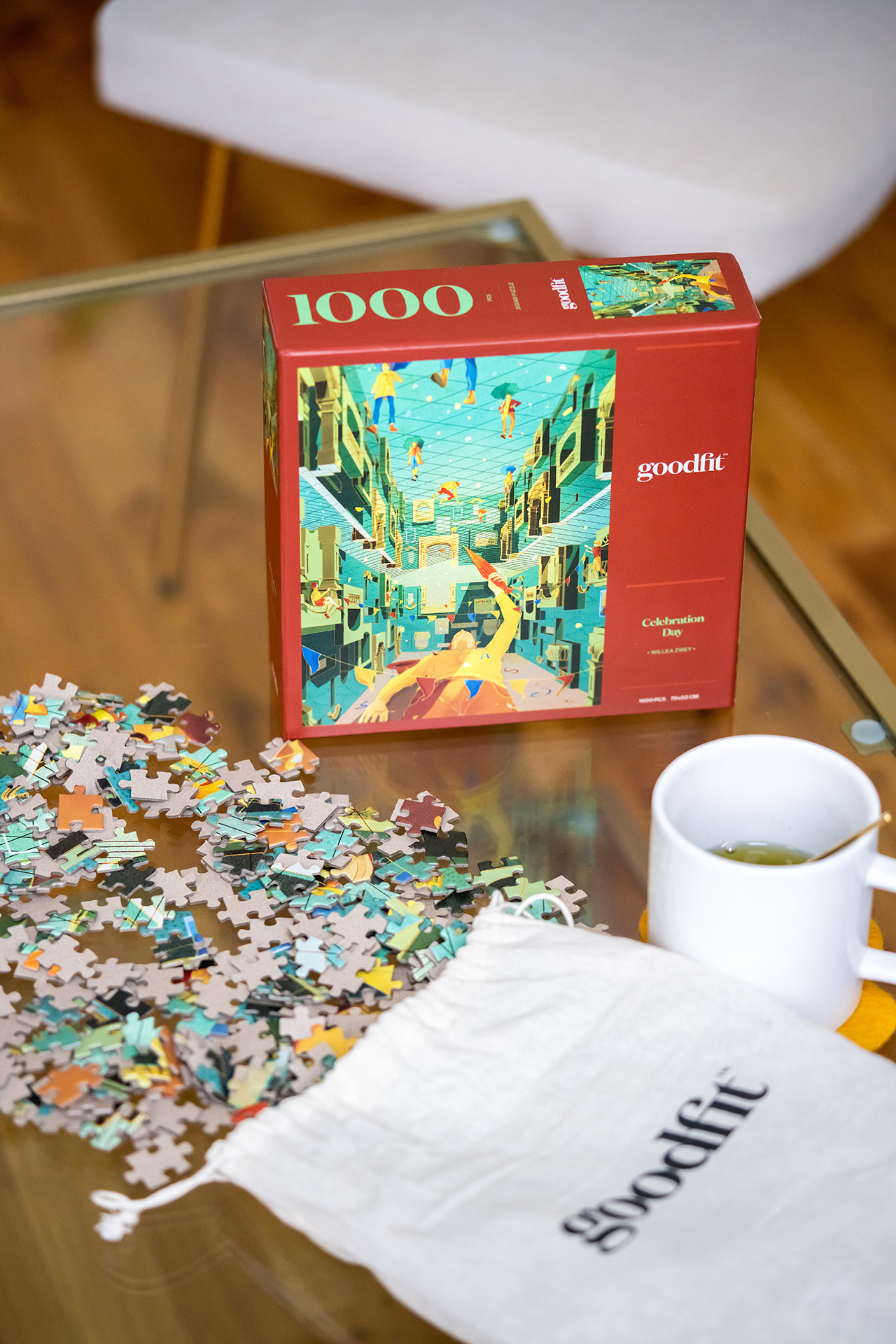 Goodfit Puzzles Champions Great Art, Culture, Causes + Connections
1/17 Photos
2/17 Photos
3/17 Photos
4/17 Photos
5/17 Photos
6/17 Photos
7/17 Photos
8/17 Photos
9/17 Photos
10/17 Photos
11/17 Photos
12/17 Photos
13/17 Photos
14/17 Photos
15/17 Photos
16/17 Photos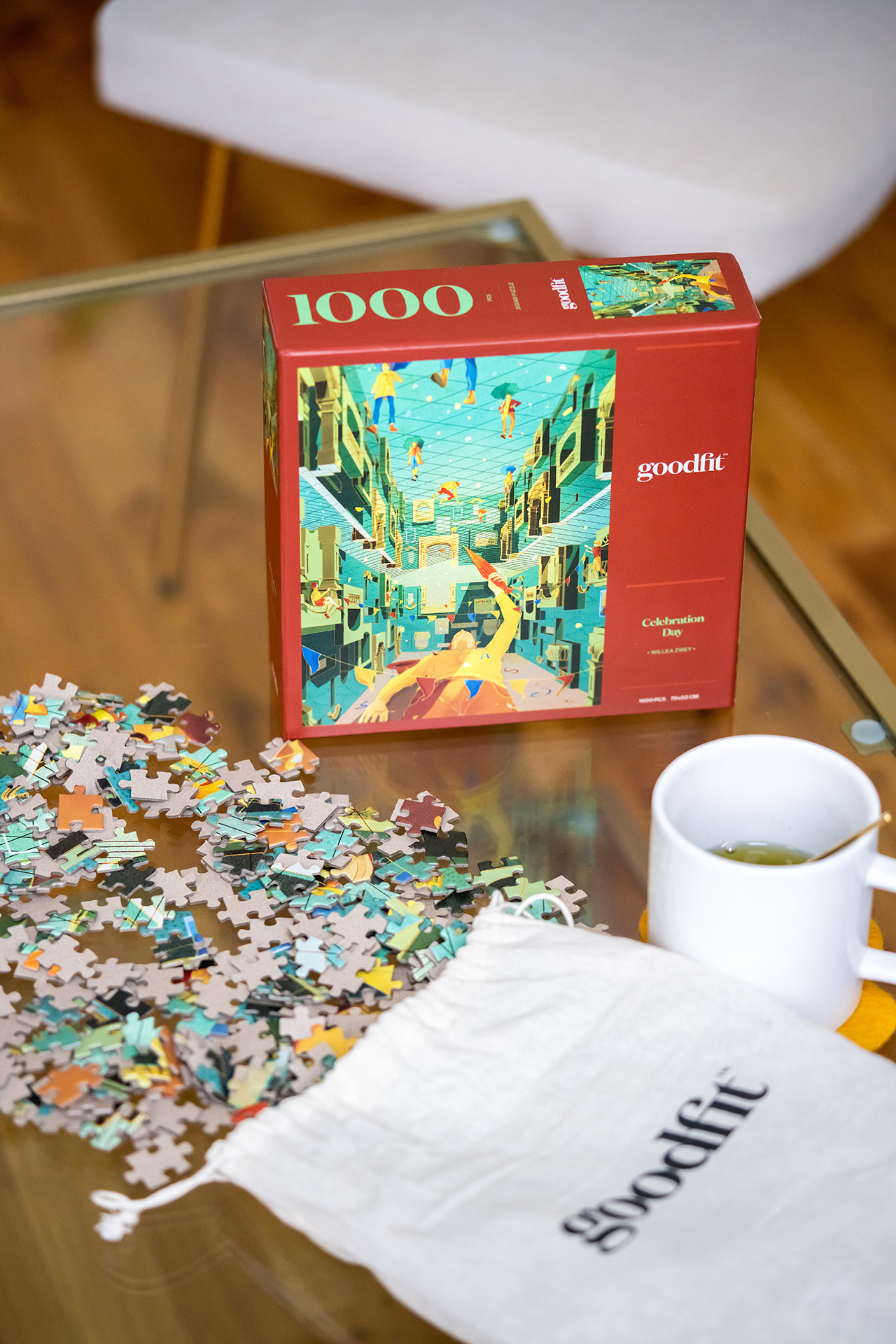 17/17 Photos
Goodfit works with artists from around the world to create jigsaw puzzles that highlight culture, causes and connections. From body-positivity and inclusivity to crypto artists and oil painters, founders Bryan and Casey are in constant pursuit of unique artwork. Once they find what they're looking for, the artists share in the profits while retaining ownership of their work. They also get to choose a cause or charity that Goodfit will donate 10% of every purchase towards.
The duo created Goodfit during the pandemic, when they couldn't find puzzles with inspiring themes and imagery. Their backgrounds in experience design, e-commerce and fashion retail merchandising were a help when it came to curating their collection and building a community with their artists. All Goodfit puzzles are designed using thick cardboard made of 100% recycled material that's finished with a linen texture for minimal glare. They come in a linen storage bag and a high quality mini poster that can be referenced during puzzles sessions. When you're done break it apart to do again, give it to a friend or frame it and hang up your masterpiece!
This bestseller, Interior with Yellow Chair, is by Mary Finlayson who has always painted and went full-time with it in 2017. Her background in art therapy can be felt in her work: calming yet energizing, giving an almost cozy feeling to her pieces. "I pull inspiration from everywhere… nature, plants and flowers, old books and magazines – no one place. I also take a lot of photos. My work is based on real interiors as well as imagined," she said.
Willea Zway's Celebration Day tells the story of human connection, mental health and self-reflection – feelings we've all experienced at some point. The former architect leaned on her background to create new worlds during the pandemic. In Celebration Day, she explores the idea of the hustle mindset celebrated by society through its main subject: the man in yellow laying on the ground. He's exhausted by life with his thoughts projected upward, until one person tries to connect with him by handing him an umbrella.
Modern and sleek yet retro, Jess Ebsworth's Savage Nature captures the essence of her artistic style. It's almost in motion, almost symmetrical… just a little off-key with its neon and black extremes. Inspired by sci-fi, space and botanicals, Savage Nature is on the verge of unleashing a wildness that's been sitting dormant. Jess said, "I love the chance to get my work off of the screen. [To think about my work] just out there in the world doing something rather than just to be looked at for one second on a screen is really nice."
>>> Shop Goodfit's puzzle collection at the Design Milk Shop! <<<
PANTONE Color of the Year 2022
The Pantone Color of the Year 2022 is… PANTONE 17-3938 Very Peri! Check out this curated collection of our favorite finds on Design Milk Shop that give nod to the Pantone Color of the Year 2022 to get ahead of the New Year!