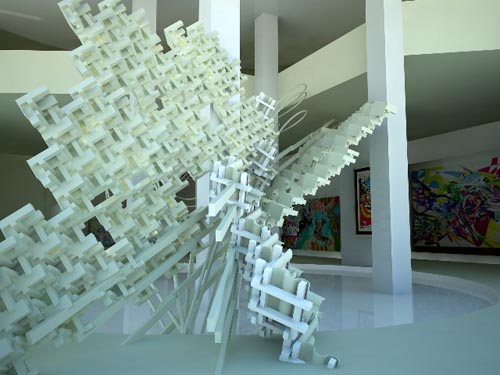 SUSHISAMBA Presents "Graffiti Gone Global", the largest exhibition of international street art in Miami.The exhibition is curated by James and Karla Murray, authors of best-selling titles Store Front — The Disappearing Face of New York, Miami Graffiti, Broken Windows and Burning New York.
Reaching beyond the typical white walls of an art fair, SUSHISAMBA has commissioned Miami-based architect HOX (Douglas Hoekzema) to design a sprawling, Brazilian-inspired favela structure for Graffiti Gone Global. HOX's exhibition design consists of interlocking components of wood and steel that may be detached and sold as separate units, some of which will bear a signature graffiti piece.
Image above is the installation and HOX sculpture.
Exhibiting artists include: 131 Projects (Argentina), Aiko Nakagawa (Japan), Armogedon 2057 (Armenia), Billi Kid (Colombia), Crome (Miami), Cycle (NYC), Doze Green (NYC), Ewok One 5MH (NYC), Ghost aka Cousin Frank (NYC), Lady Pink (Ecuador), Nina (Brazil), Shiro (Japan), Sofia Maldonado (Puerto Rico), Suiko (Japan) and Vitché & Jana Joana (Brazil).
Where: Midtown Arts District, 3252 NE 1st Avenue, Suite 101, Miami, FL 33127
When: December 4-6, 2009
[Images sources: James and Karla Murray and ARMOGEDON 2057; in order: Under Pressure by Armogedon 2057; Billi Kid Michelle Obama Stencil by Billi Kid; Untitled by Doze Green; Pink Brick Woman Reclining by Lady Pink; Sushi Baby Salmon Roe by Shiro]

Design From Around The Web