On arriving at the Stockholm Furniture Fair, we were greeted by "an invisible landscape of snow capped mountains." For the tenth year running, a celebrated international designer was invited to create this lounge. This year the honor fell to Oki Sato, Chief Designer and founder of Nendo design studio.
Oki Sato first visited the fair in 2003 and first exhibited in Greenhouse in 2004. He said: "The Stockholm Furniture Fair taught me many things as a designer, about form and function, about how to treat materials in a very honest way, it was about emotions; how design communicates feelings. I think that was a great start and after almost ten years it is a great privilege to be invited back as Guest of Honor."
Having been born in Toronto in 1977 and grown up in Tokyo, Oki Sato trained as an architect and continues to be based in the Japanese capital, although he splits his time between Japan and Europe. He's regarded as one of the biggest stars in the design industry and has worked with the likes of Cappellini, De Padova, Foscarini and Swedese.
Oki Sato said: "The installation the theme is '80 sheets of mountains'. The idea was to start with a single piece piece of foam board – it is 5mm thick and I laser cut it, so that when you stretch it out it becomes something like a mountain."
"The idea was to use less material to create big volumes. We used 80 sheets to create the space, so I only needed one truck – 80 sheets x 5mm is 40cm. It was cut at the factory and we just brought it, stretched it open and then put it on to the floor – it's quite an interesting process."
"What's interesting is that it creates this landscape of snow capped moutains, this invisible landscape and when people walk thought it sort of shivers, it moves, you notice the difference of the shapes, the shadows, the lights."
"This installation is related to the way I think about design in general – it's about taking a very small idea and letting it grow, letting it develop into something big at the end – from a simple idea into a finished expression."
"After this installation, it could be flat packed again and all I need is a single truck to take it away – it uses less transportation and it's a sustainable material."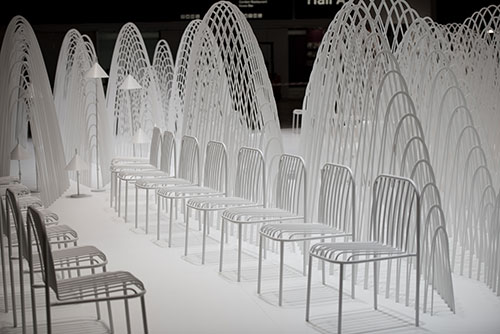 "The Stockholm Furniture and Light Fair is one of the most profoundly memorable places for me because it is here the door opened for me and enabled me to start my professional career. After all these years it is such a privilege to be back in Stockholm as the Guest of Honor, though, thanks to all my memories connected with the place, I really don't feel like a 'guest,'" says Sato.
I think the space was incredibly successful, and it's interesting that Okai Sato touched on the idea of communicating emotion, because what this space did really well was to bring the sense of calm and quiet, and even the unique quality of light, of the Swedish landscape inside. It created a bright white oasis of calm within a the hustle and bustle of a busy trade show – it was a lovely place to spend time.
With thanks to the Swedish Institute and the Embassy of Sweden in London for inviting me on the Stockholm Design Week press trip.