Konstantin Grcic has created a functional system that's an alternative to your typical office desks. Designed for Vitra, Hack offers an unfinished look at first sight with its raw wooden panels but then you discover its adaptability and functionality making them practical for office environments. Hack's height adjustment feature allows users to stand while they work, sit at a traditional height desk, or lower to the bottom for lounging.
With companies constantly in the midst of transitions, Hack easily responds to its needs. It can be folded up for moving or for storage when it's not in use. When they're needed, they simply unfold and setup in a few steps. There are two different units: a desk with crank height adjustment and a desk with quick height adjustment. You can also buy a set of cushions to turn it into a sofa when you lower the desktop all the way down.
The side panels offer employees privacy while giving space to personalize the unit.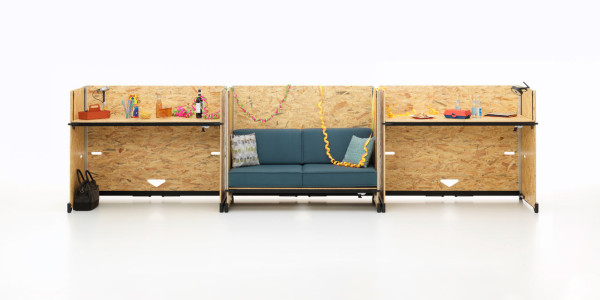 Design From Around The Web