Mič Styling is the leading salon brand in Slovenia and deciding to target the younger demographic, they launched a new brand of salons called YMS, Young Mič Styling, with the help of design studio Kitsch-Nitsch. Two salons are now up and running and here are the results…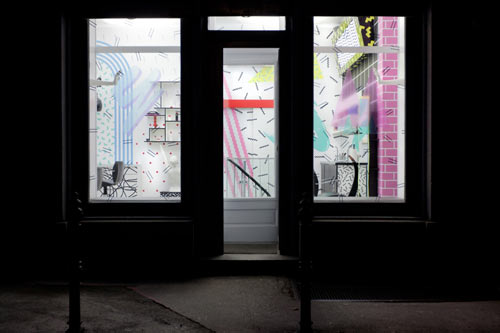 Utilizing self-adhesive vinyl that was hand-cut and applied by the designers, the results have a bright and colorful 80s feel, hopefully making the teen and early 20's set feel right at home… or anyone feeling a bit nostalgic about that decade.
Both spaces have loads of graphic appeal that settle on top of the white base. Black also balances out the pastel colors that are used throughout.
Wanting to step away from the usual design that's shoved down the throats of the youth, they tried to achieve a look doesn't really exist with the teen set of today.
As the designers said:
Well, it was either that or decorating the walls with nailed up skateboards that someone suggested we should do. We believe we made the right choice, since none of us skate.
They designed all of the MDF furniture and mirrors and had Lavka Carpentry build them.
Above photos by Miha Brodarič / Multipraktik.
Below is the second location, situated within a mall.
Photos by Kitsch-Nitsch.