Henry Swanzy is a contemporary furniture designer based in Falmouth, UK, which he launched in 2013 after 20 years making bespoke furniture. The handcrafted designs have a simple contemporary feel combining materials, like wood and glass.
The Bareppa Coffee Table is composed of five elements – a glass top, three turned legs, and a bungee connector – which cleverly stay together and come apart in seconds with the bungee cord.
Pollyfox Table utilizes curved and tapered trestles to hold a piece of glass. A simple strip of cork on the top of each trestle keeps the glass from slipping around.
Pollyfox Bench features a slight pitch in the seat helping to aid with comfort. The four legs are both curved and flared.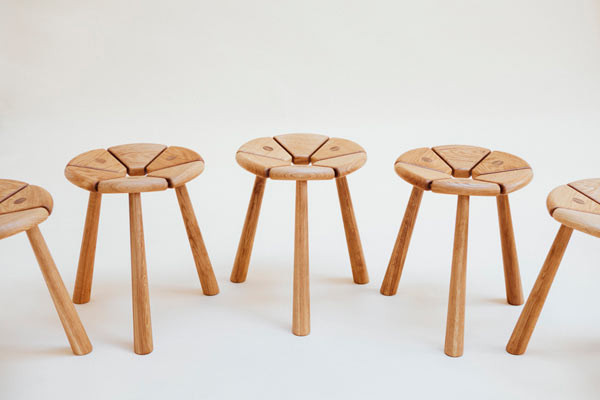 Maisie Stool was inspired by a Ugandan basket stool with its six "petals" that form the angled seat that provides extra comfort a flat stool wouldn't.
The Conker Table is an occasional table with a shape that references a sweet chestnut.
The Merthen Bookcase was inspired by England's hazel coppices and uses birch ply shelves held together with natural wood pieces covered in bark.