Designing for hospitality in Hawaii can often lean very cliché. I bet you're already thinking of lush green Monstera and palm leaves, pink bulbous hibiscus flowers, cowrey shells and prints reminiscent of kitschy Hawaiian shirts, am I right? Not that those aren't iconic motifs of Hawaii but hotels that incorporate these elements as the main focal points in their interior design run the risk of looking like every other hotel on the island, aka boring and overdone.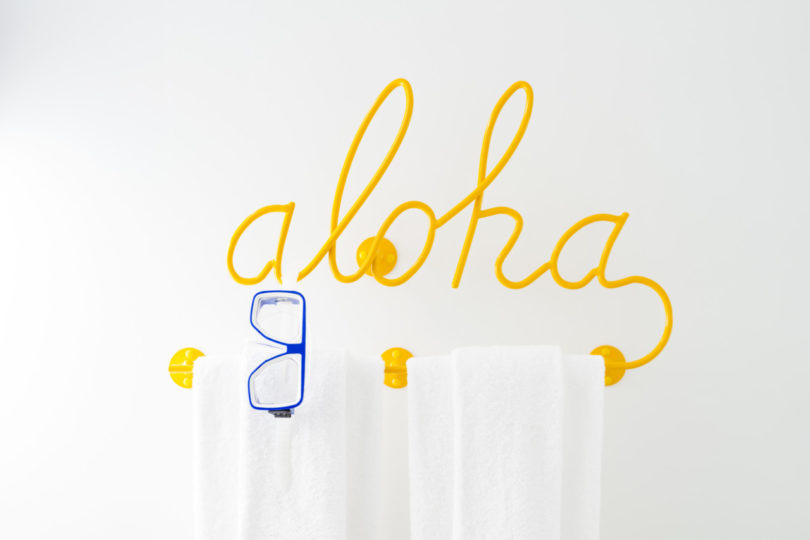 Dan Mazzarini of BHDM Design made sure you would never use those words at their recently completed project, the brand new Shoreline Hotel Waikiki. An explosion of neon and nature, this 56,000-square-foot, 135-room boutique hotel takes the concept of Hawaiian-inspired design and transforms it into a modern day interpretation that still feels authentic.
Guests check in at the open-air lobby and pass through ever-changing backdrops of multi-colored fluorescent hallways and stairwells of tropical wallpaper prints.
Once inside their rooms, guests are greeted with a custom topographic map of Hawaii. Each room is outfitted with custom carpet, bedding, drapery and furniture by BluDot and Missana, done in bright color ways and geometric shapes reminiscent of the Memphis design movement.
Fun fact: Did you know Dan Mazzarini left his own signature on the property? The "You Are Here" is done in his own handwriting.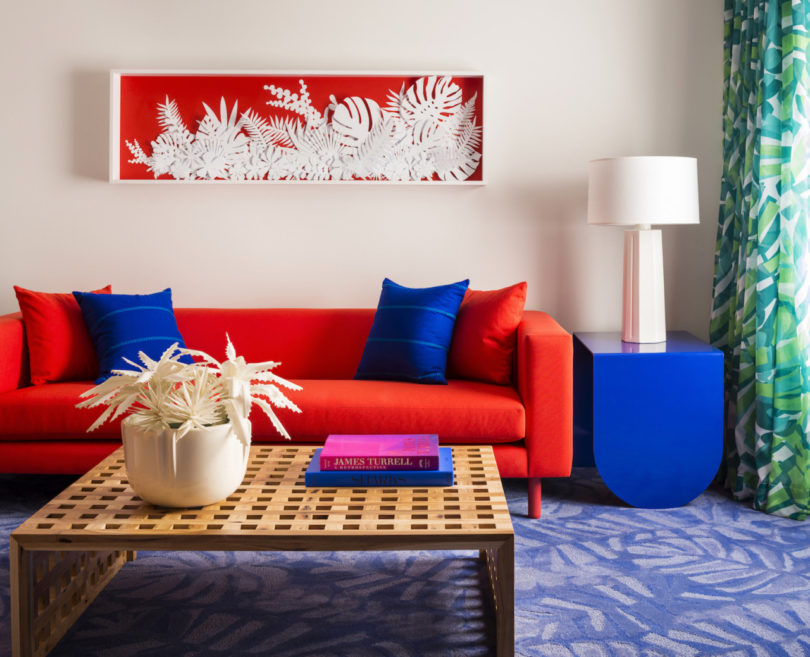 Throughout the hotel, you'll see the fun phrase "It's pau hana somewhere" inscribed on message boards and mini fridges. (Pau hana literally translates to 'finished work' and is a Hawaiian spin on the popular phrase "It's five o'clock somewhere." It's time to relax.)
Back on the first floor, a double ceiling lounge area features a custom white styrene "jungle wall" that's activated by color change lights, a hanging installation of rattan cage light fixtures housing paper sculptures of birds native to Hawaii, and geometric-shaped furnishings including custom Acacia wood cocktail tables, a 14-foot-long sofa, modern yellow wingback chairs and blue metal end tables.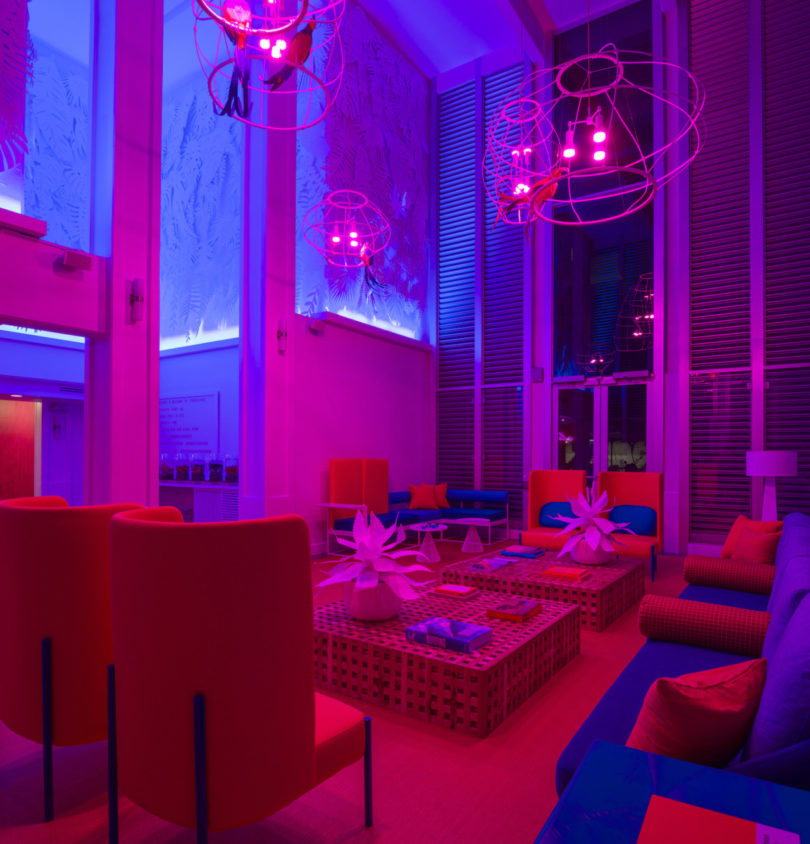 The lounge area gets a neon light treatment at night that looks like a glowing sunset.
A tropical mural of Hawaii's landscape painted by California-based artist DJ Neff flanks the rooftop pool and provides a neon backdrop for morning swim.
What: The Shoreline Hotel Waikiki
Where: 342 Seaside Ave, Honolulu, HI 96815
How much? Rooms start at approximately a grand opening special rate of $179 per night.
Highlights: Say Aloha! to your new favorite hotel on Oahu. The Shoreline Hotel Waikiki stands out from its neighbors for its "nature meets neon" experience and its design is inspired by the idea of a never-ending sunset.
Design draw: BHDM Design took traditional Hawaiian elements and gave them a neon facelift. Tropical greenery are all-white in this hotel. The usual color palette of lush green and acacia wood brown are replaced by bold, punchy colors of teal, pink, and yellow. All the while, the Hawaiian hospitality experience still feels authentic.
Book it: Visit the Shoreline Hotel Waikiki
Photos by Adam Kane Macchia.