Northmodern is a brand new design show in Denmark's Copenhagen and we were keen to check it out in its inaugural year, so I (Editor at Large Katie Treggiden) hopped on a plane, braved the snow and the rain, and discovered the rising stars of the North – like Danish designer Anne Boysen, who designed Arch:You (above) for Applicata.
Copenhagen-based ceramist Malene Helbak designs her products to be mixed and matched and used for a multitude of purposes. "Why should a cup not be used for anything other than coffee and tea?" she says. "How about using it for a flower or a pencil?"
Simon Legald's Saturday job while he was studying design at university was in the Normann Copenhagen shop. He eventually got an internship in their design department and has now released Form, a seating collection inspired by chairs throughout history. "I have analyzed hundreds of chairs from different periods during the design process," he said. "I had an idea of what the ideal chair should look like."
Paustian were showing the iconic Stool 60 by Finnish architect and Artek co-founder Alvar Aalto in a range of cheerful colors that counterbalanced the grey weather outside.
New designers Anne Nørbjerg and Sanne Kyed of Nordvink developed the Bell Lamp for Applicata – it can be hung as a pendant, singly or in groups, or laid across a surface to work as a table lamp as above.
Archive was designed by Ninna Kjaegard Nielse as part of a Forest Stewardship Council (FSC) competition. The FSC is an international not-for-profit organization established to promote the responsible management of the world's woodlands.
Tojbox is a freestanding wardrobe designed by Made by Michael for new design brand Woud. It comes flatpacked and is assembled without screws, nails or glue, using wooden joints that simply slot or twist into place.
A sign above the Tonfisk Design stand said, "Form follows function doesn't mean all objects have to look the same," as elegantly demonstrated by this unusual tea set.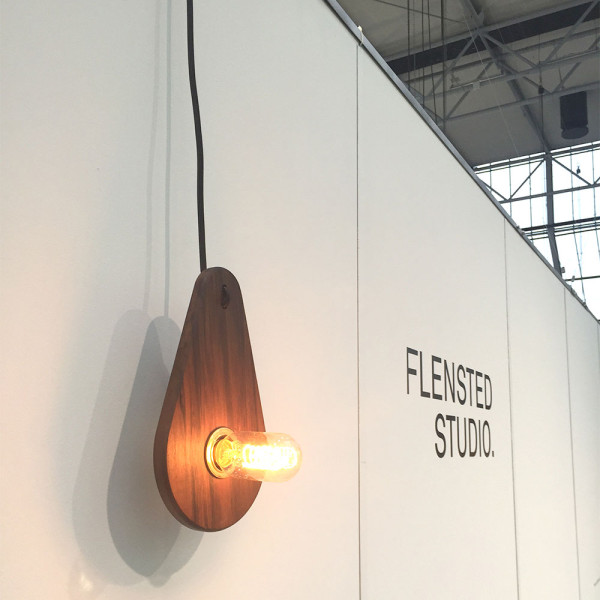 I met Troels Flensted at his graduation show from Central Saint Martin's in the summer, so it was really exciting to see him exhibit at his first trade show having decided to set up his studio in Denmark. Definitely one to watch.
And finally retro-inspired ceramics by husband and wife team Anette Stabel and Jesper Binger, otherwise known as Super Living.
Northmodern is back for its second edition in August and I, for one, can't wait.