Here's How We're Celebrating Our Animals on National Pet Day
Here's How We're Celebrating Our Animals on National Pet Day
1/19 Photos
2/19 Photos
3/19 Photos
4/19 Photos
5/19 Photos
6/19 Photos
7/19 Photos
8/19 Photos
9/19 Photos
10/19 Photos
11/19 Photos
12/19 Photos
13/19 Photos
14/19 Photos
15/19 Photos
16/19 Photos
17/19 Photos
18/19 Photos
19/19 Photos
Happy National Pet Day! While we pledge our love to our paw-footed friends all year round, the Design Milk team will jump at any excuse to spoil our fur babies a little more than usual. So if you're looking to treat your pet to more than a milk bone this Pet Day, we've got plenty of modern pet gift ideas that are sure to get tails wagging. Read on to see what the Design Milk team is grabbing for their pets this year. Visit the Design Milk Shop for more design-driven pet finds!
Vy – Lifestyle Editor / Pet's Name: Koda
Terracotta Collar by Herzog
"A dog's collar is basically part of their identity so it makes sense to invest in one that will last long for all those walks and adventures! I gifted my sister's dog, Koda, with this one from Herzog and I'm so impressed with how durable it feels compared to the ones I've seen at the pet store."
$25 (28% savings!)
Shop Now >>
Lucy, Marketing Director / Pets' Names: William + Ella 
Chara Cat Nest Bed by Noots
"I have 2 cats and I know they'd love this cat nest bed. It's made from ultra-soft faux fur that makes for a cozy, safe place for them to curl up and keep warm. The neutral colorway would also complement my home purr-fectly!"
$110
Shop Now >>
Kelly, Senior Editor / Pet's Name: Remy
New York! New York! Cat Collar by Hiro + Wolf
"My crazy boy, Remy, just turned two years old, and this New York! New York! Cat Collar from Hiro + Wolf is just the right amount of playful. His current collar has seen better days and this one matches his colorful personality perfectly!"
$21
Shop Now >>
Small Soap Box Casentino Wool Pet Bed by Pillowvilla
"My cat loves a good bed, key word GOOD. This Small Soap Box Casentino Wool Pet Bed by PILLOWVILLA looks the perfect amount of cozy for him and the right amount of good-looking for me and my home."
$203
Shop Now >>
Stephanie, Finance Director / Pet's Name: Archie
#2 Harness Kit by Just Fred
"Our Archie is king of the neighborhood as he gets walked every day and feels it's his turf. Of course, we want him to be comfortable walking and look good while defending his territory. This Just Fred harness set provides comfort and stylish design. We love the gray as it's my favorite color. Archie doesn't like a harness that goes over his head, so this worked out wonderfully. We have good control while he has comfort of movement (and zero choking). I recommend this set to anyone that loves a good stroll like we do."
$85 (15% savings!)
Shop Now >>
Kelley, Operations / Pet's Name: Neville
Ivory Bow Tie by Eat Play Wag
"My husband and I are renewing our vows this spring. Neville is such an important part of the family; the ceremony wouldn't feel complete without him. I purchased this bow tie so Neville could look his best too. Can't wait to see my fancy boys looking dapper with their matching bow ties."
$18 – $20
Shop Now >>
Alexa, Commerce Editor / Pet's Name: Phoebe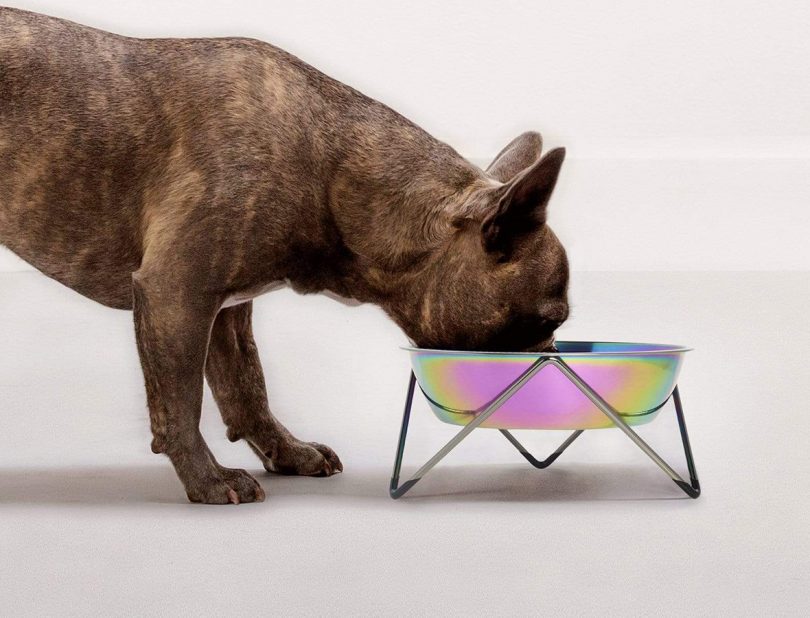 'WOOF' Mix 'n Match Dog Bowl by Bendo
"I love the fun, iridescent finish on this Bendo Dog Bowl. The geometric metal frame comes in a variety of finishes so you can mix and match to your heart's content (though I personally love the contrast between the white metal and the multicolored oil-slick bowl). While Phoebe is expectedly way more excited about what's inside her bowl, the cool and colorful aesthetic of the Bendo bowl makes mealtime as exciting for me as it is for her."
$77
Shop Now >>
Slim Fit Raincoat by Bastards
"Finding clothes that fit my greyhound Phoebe's adorably noodle shaped body has always been a challenge. So I was beyond excited to discover Bastards, a pet brand that makes dog clothes and accessories inspired by greyhounds' unique specifications but designed to work for all dogs. I've been loving their Slim Fit Raincoat for rainy day walks with Phoebe. Not only does the waterproof coat have an edgy, fashion-forward look, it offers the perfect amount of coverage and is easy to put on without being restricted – now she can zoom comfortably and in style!"
$307
Shop Now >>
Lilit, Social Media Manager / Pet's Name: Meda 
Harness by Wild One
"Humans can have cute matching outfits, so why can't dogs? I am loving these cute harnesses (and their matching leashes) from Wild Ones. Get one to match your dog's personality or get multiple to coordinate your outfits!"
$38.40 (20% savings!)
Shop Now >>
Lauren, Digital Designer / Pet's Name: Plants! 
June Propagation Station by House Raccoon
"When your pets are plants… I don't have pets, but I love my plants as though they were pets! This little propagation vase is so fun for displaying cuttings around different parts of the house. It's even more rewarding when the cuttings sprout roots, and I can then replant them for even more plant pals!"
$55
Shop Now >>
Shopping any of our pet picks? Share a photo of your pet's new digs and tag us @designmilk to be reposted on our Instagram!