Located in the heart of Hollywood, this home brings unexpected elements to its facade, which is full of angles, resulting in a unique residence that is a true work of art. The house was designed by Amit Apel Design and constructed by Anchor Construction Group to stand out from the pack with charcoal and smokey orange tones, mixed with a wooden accent wall.
The custom front gates were designed by Amit Apel himself, who's also an award-winning artist.
A wraparound deck connects the house to the pool, which features a swim up bar. The smokey orange accent color continues in the trim around the skylight.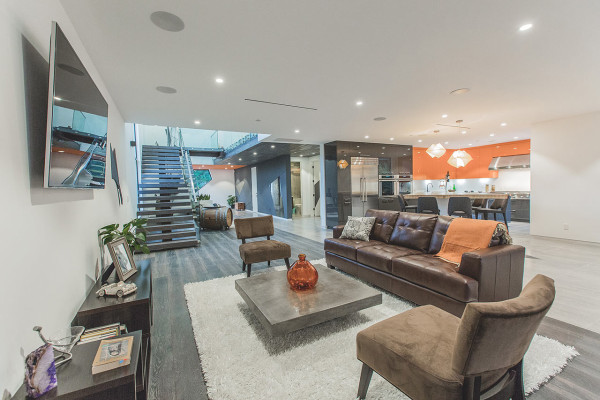 The interior has an open floor plan that benefits from double-height windows by the open staircase.
The same charcoal and orange can be spotted throughout, unifying the exterior with the interior.
Grey wood floors run alongside sleek tile as a barrier to separate spaces.
The bedrooms all have vaulted ceilings and custom features, like the accent walls.
Photos by Brandon Valiente.