London-based design studio Bureau de Change took on its first residential design project that was to join two neighboring properties into one family home, complete with a new addition added to the back of the residence. The 'HomeMade' project began by opening up the dividing walls and connecting the adjoining spaces making them feel unified and open.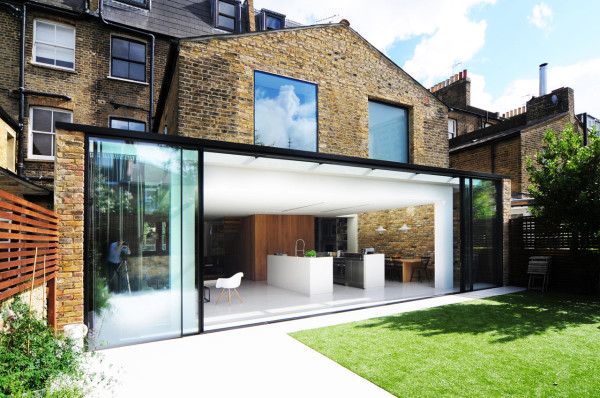 The new extension contains the kitchen and dining area and the entire facade was wrapped in glass, helping to pull the two, once-separate properties together. The back wall houses floor-to-ceiling, sliding glass doors that completely open up the new space to the outdoors, helping to blur the boundaries.
Skylights were installed on the outer sides of the space to bring even more light into the addition.
The original brick is kept exposed helping to balance out all the sleek new finishes.
The new stainless steel kitchen islands are covered in white resin shells making it look like an extension of the floor.
The wood cabinets also help to warm the space up.
Photos by Eliot Postma.