Imagine escaping away to a slow-paced island way of life to the idyllic and rustic island of Cozumel, but instead of ditching modern design, amenities and hospitality, you arrive to a hotel that was remodeled with all three of those aspects in mind. Such is the case for the Hotel Presidente Intercontinental Cozumel, redesigned by Mexican furniture and interior design firm, mob, who was given the task of developing a hospitality concept that represented contemporary Mexican design and culture.
Mob collaborated with glass studio Orfeo Quagliata and graphic designer Tania Zaldivar to create signage for the entire hotel, including gold room numbers that greet you at the door.
Artworks by artist Edgar Orlaineta line the wooden walls of the lobby.
Elements of traditional Mexican crafts were incorporated with furniture and decor created by renowned designers in Mexico, including: wool felt carpets by Dejate Querer; bathroom sinks by ceramist Perla Valtierra; room accessories by Lagos del Mundo; bed and sofa cushions by 1/8 Takamura; and glass lamps by Nouvel Studio. Of course, mob's own carpentry shop custom designed the furniture in all the rooms.
The interior design is laced with Mexican design elements, like wood panels, basket weavery, and wooden chairs (an abstraction of a traditional handmade chair called an "equipal").
For the Presidential suites, guests can enjoy additional design by Poliform, Kettal, and Dornbracht.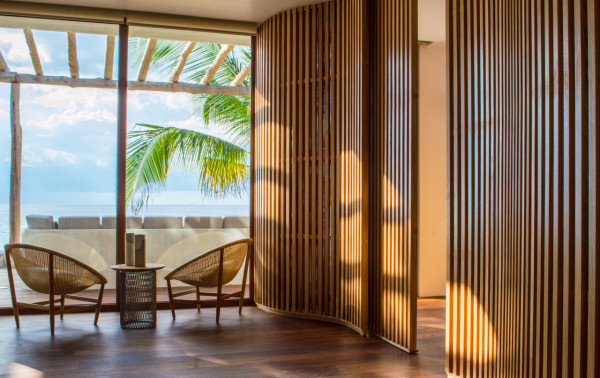 What: The Hotel Presidente Intercontinental Cozumel
Where: Carretera A Chankanaab Km 6.5, Zona Hotelera Sur, 77600 Cozumel, QROO
How much? Rooms start at approximately $220 per night
Highlights: Idyllic island life in Cozumel paired with contemporary design rooted in Mexican culture create the perfect modern escape.
Design draw: Local artists, designers and makers collaborated with design studio mob to create a unique, one-of-a-kind atmosphere that accurately represents the beautiful location of this hotel.
Book it: Visit the Hotel Presidente Intercontinental Cozumel website.