magdas Hotel is a completely new type of hotel that redefines hospitality. Located in Vienna, Austria, the hotel aims to be both a home for visiting tourists and for refugees forced to leave their native countries. This unconventional concept was initiated by magdas, the social business subsidiary of Caritas Austria, and carried out by AllesWirdGut Architects in Vienna's Prater district. For this month's Destination Design, we virtually check out this new type of hotel.
For tourists of Vienna, there are 78 new rooms available with views of the Prater Park landscape. Right alongside the guests are spaces for young people, who without choice, were forced to escape the hunger, war, persecution, and torture happening in their own countries. For these people, there are two residential units that are supported by Caritas that house 25 young people who came without parents as refugees. The hotel offers a temporary place to live, as well as work, if need be. Most of the staff at the hotel are refugees.
They were strapped with a very tight budget of 1.5 million Euros but you'd never know it looking at the decor. Also, to reach that budget, they sought the help of everyday people through a crowdfunding campaign and looked to sponsors to donate materials. It truly took a village to make the hotel happen with building help from contractors, suppliers, local residents, and the refugees themselves.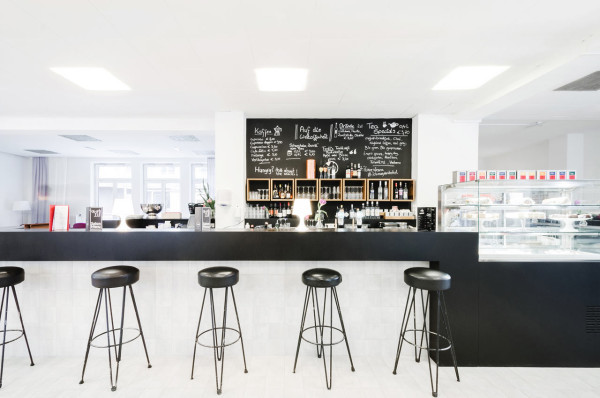 To stay on budget, AllesWirdGut went with a design concept that utilized upcycled furniture, mixing elements to get the fresh, modern look you see in the simple, finished design.
Standout pieces full of character accentuate the decor and bring a bit of history to the spaces. They shopped in Caritas' own thrift store, used furniture that was left behind by former residents of the once retirement home, and had donated pieces from the locals to work with.
You'll notice that the rooms all have a different look, while keeping with the vintage chic  style. The furnishings blend with the building, which was largely preserved and refurbished. The overall style might be scaled back and minimal but it's definitely not boring.
What: magdas Hotel
Where: Laufbergergasse 12, 1020 Vienna, Austria
How much? From approximately US $67 per night
Highlights: A character-driven hotel with a stylish, upcycled vibe right in the heart of Vienna's center and the Prater Recreation Park.
Design draw: A unique blend of vintage furnishings merge with a modern refurbishment to create a simplified, but chic place to stay.
Book it: Call +43 (0) 1 720 02 88 or email [email protected]
Photos by © AllesWirdGut Architektur/ Guilherme Silva Da Rosa.