Built within the sloped rugged terrain in Hyogo, Japan, the Krampon residence was designed by Shogo Aratani Architect & Associates to sit atop the rock bed to avoid too much excavation. The hard rocks meant designing the three volumes along the landscape, which has them situated at various heights.
A portion of the rock was removed during construction to make way for the garage but they reused it as pavers along the entryway.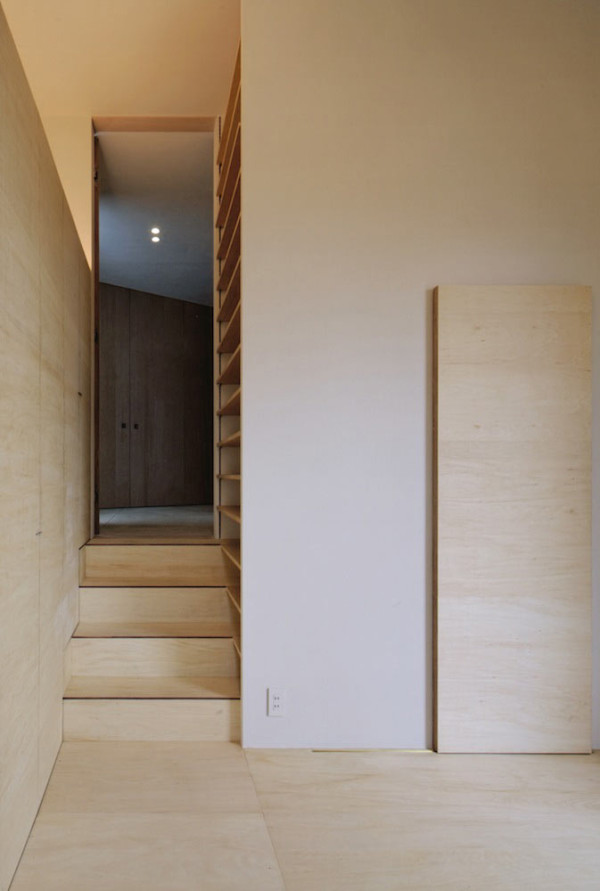 The staircases follow the same lines as the rock formations underneath the foundation. Instead of empty walls along the stairwells, they installed bookcases to hold a large collection of books.
The stairs intersect the three volumes uniting the spaces. The bookcases continue as you go up.
The lower volume houses the private rooms on the first floor and a terrace above it on the roof. The terrace is accessible from the living room.
The main, common spaces are located on the top floor to maximize the views. This volume sits right below two large trees – a camphor tree and a cherry tree.
A skylight was built into the living room's ceiling so the homeowners could view the trees above.
Floor-to-ceiling windows make the room feel as if it's floating above everyone else.
Photos by Yutaka Kinumaki.