House D located in a suburb of Osaka, Japan was designed by Takeshi Hamada for a young owner. Located in a mixed area where there are industrial factories, parking lots, and an elementary school. there isn't much greenery around and so the building was constructed as a response to its environment.
From the architect:
Architectural Planning
In this planning, I call the garage in the building site "Light Well" and I deploy the building in L type around the garage. There is only road in the north side and I intentionally didn't make a window in this side and planned that all rooms can take lights and air from this "Light Well." I put Gal-Barium Steel Plate on the road side of the housing and it configures the feature of this housing with wooden doors.

Inside
I planned simple space structure that all rooms enclose "Light Well". First Floor: Western Style Room *1 Second Floor: Living, Dining, Kitchen, and Bathroom Third Floor: Western Style Room *2, Free Space Second Floor: Living, Dining, Kitchen (LDK) The floor is lime stone, and we could feel at home of our families by open design of stairs. Second Floor: Bathroom and Toilet The floor is lime stone as same as LDK, and it's open space faced with "Light Well". I planned children room in the third floor, and it's next to free space and separated by wooden sliding door. There is no wall in this floor so that we would arrange the space depending on the change of family structure in the future and daily intended use.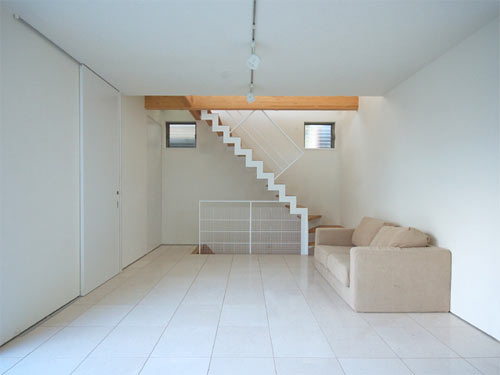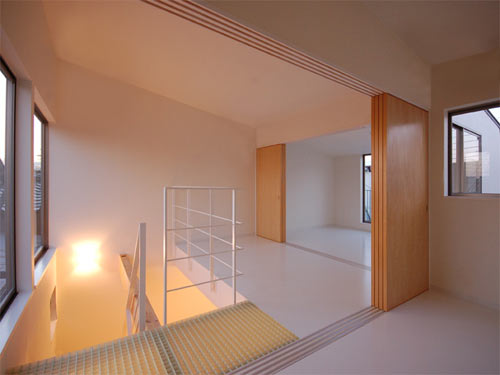 Architect: Takeshi Hamada
House Name: House D
Location: Daito City, Osaka, Japan
Construction: April 2010 – July 2010
Structure: Wooden
Site Area: 66.00 m2
Building Area: 38.88 m2
Floor Area: 100.53 m2 – 1F 30.87 m2 2F 38.88 m2 3F 30.78 m2