More on that later…
Designing a room from scratch is really hard. No, like ultra HARD. The room was a giant gray box, and I was overwhelmed. We'd already purchased a few things for the room: window shades from Décorview, a desk, and a TV that doubles as a monitor so that Mr. Design Milk can use it as a part-time office. We also had a planter and a brass nail sculpture we wanted to use in the room.
I didn't even know where to start, so I called my interior designer friend Michelle Salz-Smith of Studio Surface to help guide me. I'm not much of an interior designer myself. I can tell you what things I like, rooms I like, but when it comes to putting things together? Forget it. I need an expert.
Michelle's challenge was to create a relaxing room that functions both as a guest room and an office, incorporating the items we already had. I wanted it to have a distinct, eclectic modern style with mid-century touches and a bit of edgy glam. Think Don Draper meets Kelly Wearstler—with a side of Xanax.
After Michelle came over and talked with me about the design and took measurements, we started to discuss specific pieces. Being so entrenched in the design world, I see so much stuff I want, it was very hard to narrow it down and focus. However, I did have a few specific ideas of what I wanted: neutral deserty colors, warm wood tones, and black accents. I didn't want to scare guests away or distract Mr. Design Milk as he worked, so the room needed to feel calm but not boring.
Michelle presented me with two options:
Option one had black accents and a more neutral feeling.
Option two had gold accents and a lot more going on from wallpaper to hanging planters.
I loved both of them but felt more strongly about option 1 because I really liked the black accents, but I also liked the idea of wallpaper from option 2. We mashed everything together to create a hybrid design:
I feel like this new option accurately captured the feeling I was going for. And adding the wallpaper to Option 1 made a huge difference! We went through so many wallpapers that I think I've seen every single wallpaper pattern ever manufactured. Our finalists were Calico Home WABI, Cuff Home Brushstrokes, Levante Breccia by Flat Vernacular and Erika Wakerly's Angles. After much back and forth and budget rearranging, we decided on the Cuff Home Brushstrokes in Rose to bring in a little fluidity and color. I appreciated that Michelle was patient with me, too – I'm so picky!
Once everything comes together, I'll share a before/after post with you that includes a list of all the products and sources for the room.
At some point during this whole process the ComforPedic iQ mattress from Simmons arrived. We were pretty excited to test it out, but we ended up having guests that very weekend, who ended up taking it for a spin. Here is the actual text conversation I had with them: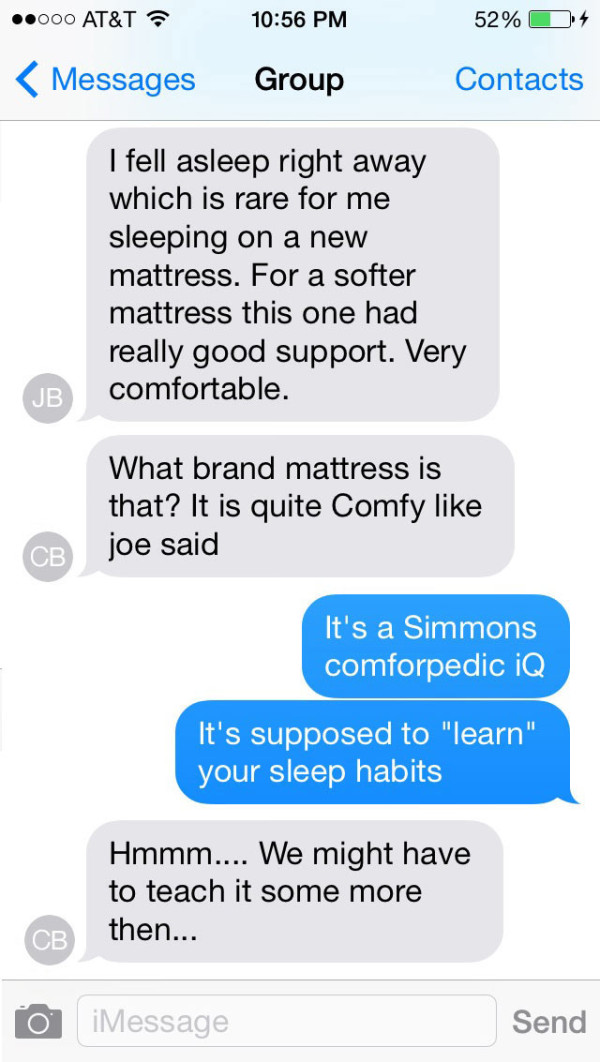 After that, I quickly washed the sheets and decided to try it out for myself. While I was waiting for everything else for the room to arrive, why let this comfy new mattress go to waste? I've had two naps and a full (glorious, stretched out, quiet) night's sleep on it.
I know that a double/full size would have had a smaller footprint in the room, but I really wanted a queen. I know how uncomfortable and awkward it can be sleeping in someone else's house, in an unfamiliar bed, so I wanted to make sure that our guests were as comfortable as possible. And, in the unlikely event that we would need to sleep in it, we'd be comfortable, too.
Right off the bat, I was impressed at how pretty it was. Most of you probably know what mattresses look like: ugly quilted floral patterns. But who cares what your mattress looks like because you're covering it with sheets, right? Wrong. I believe that all products should consider the entire package and not just functionality, and I can appreciate that Simmons took the time to think about the design, pattern and overall package of the ComforPedic iQ mattress. It shows their attention to detail and dedication to form+function.
From my own experience with the mattress, I can say that I fell asleep fairly quickly, and felt like the Ultra Cool™ Memory Foam didn't make me feel like I was sinking into quicksand. There was some bounce and give, which a lot of current foam mattresses lack.
I have to admit that I'm looking for excuses to trying it out a few more times to test the ComforPedic iQ Smart Response™ technology, which automatically calibrates to your body's weight and position on the mattress for personalized support. I am a little worried, though, that this will deter guests from ever leaving!
As I'm writing this post, we've received the curtain panels, curtain hardware and most of the bedding. Everything else has been ordered and is on its way. Right now, the room looks like a storage unit (trust me, you don't need to see it yet!), but I'm excited for everything to arrive so I can see how this room is going to come together. Stay tuned for the before/after…
Thanks to Simmons for providing us with a ComforPedic iQ mattress. All reviews and opinions are my own.