The Sharifi-ha House, designed by nextoffice, is nothing short of magnificent and you're about to see why! Unlike almost every single house out there, this one has the ability to be open or closed off, introverted or extroverted. Depending on the seasons or the homeowners' needs, rotating volumes can be turned to change up the interior and the exterior.
Built on a relatively narrow, but deep lot, the residence has the unique ability to turn a two-dimensional façade into a three-dimensional one, thereby giving it the ability to be open or closed. Traditional Iranian homes serve all seasons by offering both winter and summer living rooms. With this modern design, this home can do that with an open, perforated façade with large terraces or it can close down for Tehran's long and cold, snowy winters.
The spacious, and I do mean spacious, abode spreads 1400 square meters (or approximately 15,069 square feet) over seven floors! The two basement floors offer fitness facilities and wellness areas, while the ground floor contains parking and the housekeeping rooms.
The first and second floors are dedicated to public activities and the third and fourth floors provide the family's private spaces.
Built within the center of the design is a void that helps keep each floor open and bright. Suspended bridges connect the two fixed volumes that make up the structure.
The rooms can be changed up depending on the needs of the residents, making the home even more adaptable.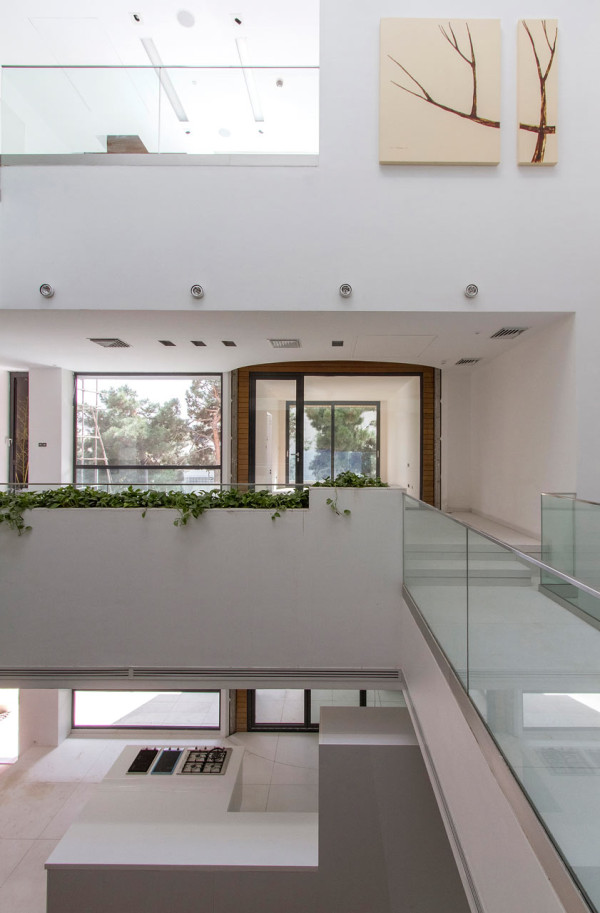 The basement floors even benefit from daylight because the design's upper floors were brought in three meters to allow for a glass ceiling.
Oh hello, indoor pool!
Photos by Parham Taghioff, except where noted.