StudioMET Architects designed this single family home in central Houston, Texas, on a 5,400 square foot lot. The McDuffie Residence is surrounded by 3 and 4 story multi-family residential and townhouse structures so they created a design that would break up the monotony on the street. The exterior appears as layered forms with specific voids helping to give the home a unique look. The entry to the garage doesn't face the street like the rest of the pack, instead it's turned 90 degrees.
The first floor houses the main public living spaces with an open kitchen, living and dining room. Thanks to a wall of sliding glass doors, the room opens up to the covered patio, pool, and yard area.
Brick and wood, used on the exterior, are brought inside helping to blend the separation of spaces.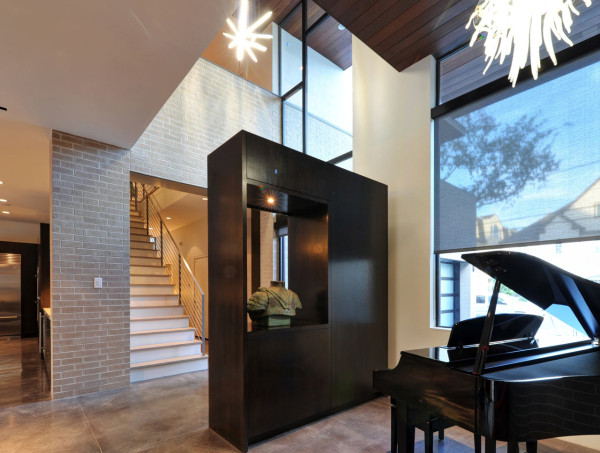 Upstairs features three bedroom suites, plus a master bedroom.
The master bedroom is located at the rear of the house to help with privacy. The room also is connected to the outdoors with a balcony that overlooks the pool.
Photos by Yoon You.