The following post is brought to you by Thuma. Our partners are hand picked by the Design Milk team because they represent the best in design.
There's a line in Don Norman's The Design of Everyday Things I often think of when determining the quality of a design – a succinct observation that helps focus the senses toward the details: "Good design is actually a lot harder to notice than poor design, in part because good designs fit our needs so well that the design is invisible."
By this standard, The Bed by Thuma is an elegant, comfortable, and simple success.
Yes, Thuma's platform bed makes a great first impression – substantial materials, yet light in form – an adaptable and contemporary design informed by modern architecture and Japanese minimalism that will look great in bedrooms, great or small. But it's equally important to begin by pointing out how much effort Thuma invested in the entire timeline of the customer experience – from delivery, unpacking, assembly, clean up, and the eventual pleasure of enjoying a restful night's sleep.
Their team spent two years poring over details and prototyping dozens of platform bed models before arriving at a design they'd continue to test for thousands of more hours, purposely destroying and perpetually refining what was eventually to become "the perfect platform bed frame, designed for how you live."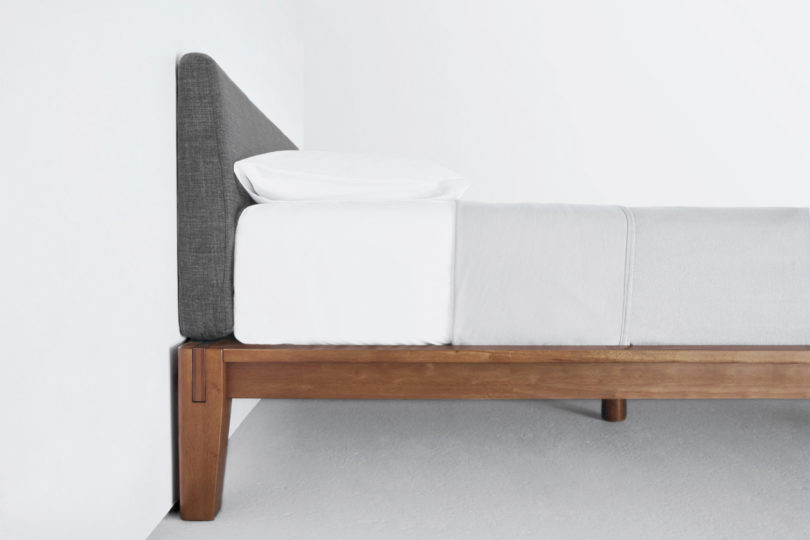 "Our goal was to create a platform bed that stripped away everything unnecessary and elevated every aspect of bedroom living," says Thuma, "We wanted to find the perfect combination of functionality, minimalism, and luxury design, while being mindful of our environmental impact every step of the way."
The Bed ships in three boxes designed to be easily carried through tight spaces, each carefully packed, labeled, and adorned with a few playful reminders that the means to "your staycation" have arrived. The attention to detail extends to the included instructions sheet, each step embellished with color illustrations to help take the guesswork out of piecing everything together. It's these small, but welcome touches that communicate the company has considered every step of the way for their customer.
A piece of furniture is only as good as its individual components, and Thuma has gone the extra mile to source environmentally-friendly, up-cycled, and repurposed rubberwood from rubber tree plantations located close to their craftsmen and factories, minimizing both waste and reducing the carbon footprint of transportation emissions. The wood isn't just beautiful, with each bed patterned and colored with its own unique grain, but also provides an enormous load capacity. Thuma rates The Bed capable of supporting over 1,500 lbs – an impressive figure attributed to the quality of materials in combination with the Japanese joinery technique that keeps everything securely in place.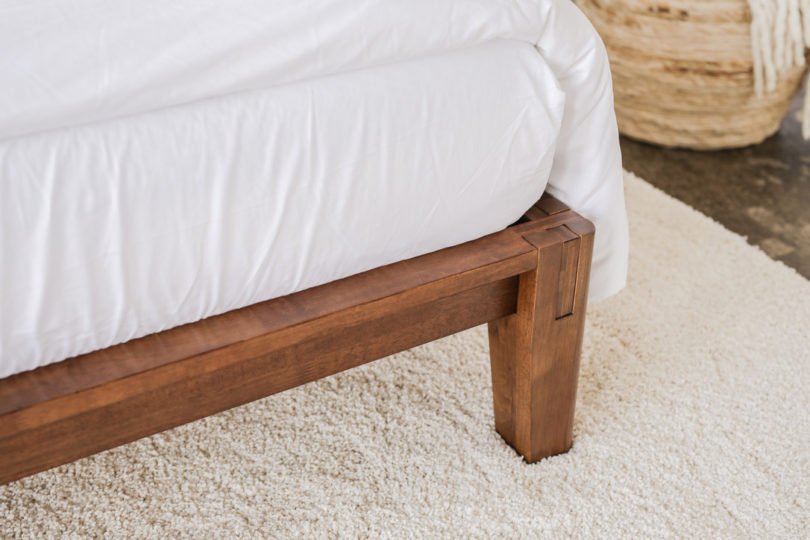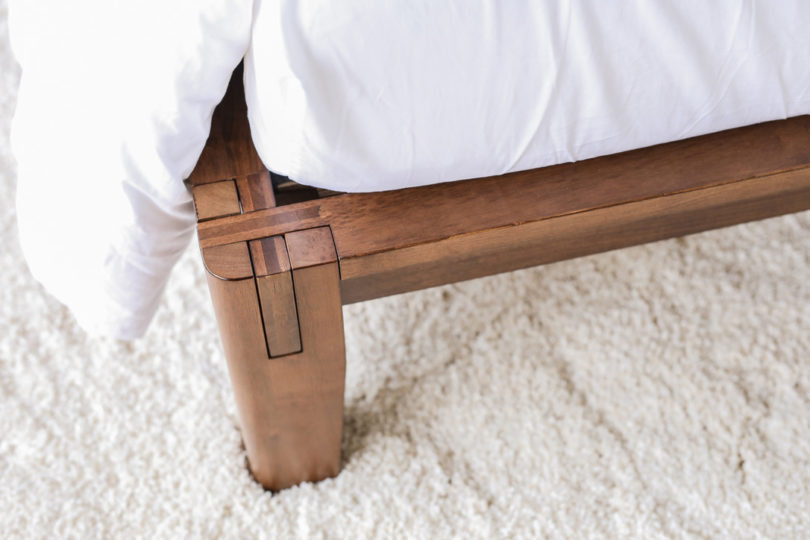 "Joinery has many benefits inherent to creating a much stronger connection between two separate pieces than hardware ever could (without the loosening of screws or the weakening of pressure over time). It also doesn't creak or squeak," explains Thuma, "The reason why joinery is not more common is that it takes a lot of time. It requires a precise fit and real wood for strength and durability. Because of the attention to detail necessary at every step of the manufacturing process, it's understandable why it's not more common."
The best designs are the sum of numerous subtle decisions prioritizing purpose and simplicity, and The Bed is simply purposeful, piecing together like an elegant wooden puzzle in just five minutes without the need for any tools. Everything secures into place with just two hand-tightened screws. Other details include a spread of felt-cushioned, double strength slats placed three inches apart for optimal mattress support and breathability, 9" of clearance underneath for storage, and legs thoughtfully rounded to keep shins from injuries. The Bed is crowned with a minimalist headboard alternative Thuma calls The PillowBoard; available in either Dark Charcoal or Light Linen, the linen weave Pillowboard is an attractive lightweight accessory enhancing the minimalist design and softening the space between sleeper and wall.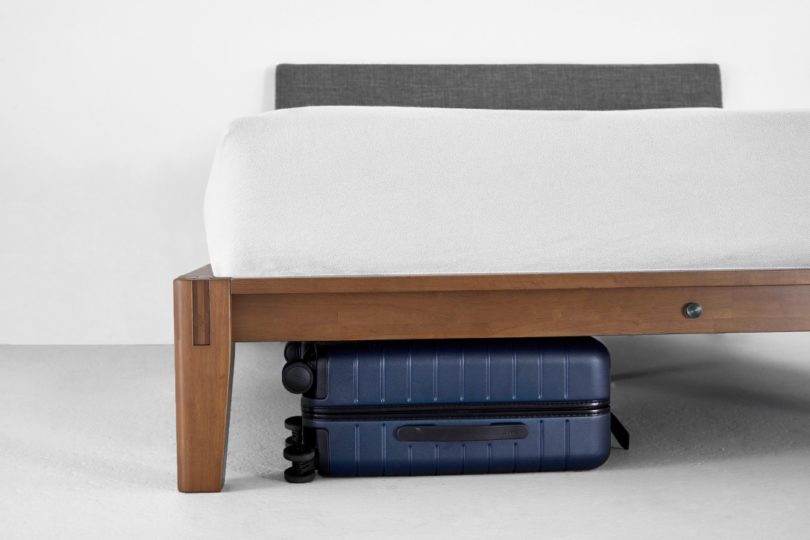 The Bed by Thuma is available in sizes ranging from Full, Queen, King, and California King, starting at $795, and shipping for free backed by a 100-day return policy alongside a lifetime warranty. Order yours today at thuma.co.

Design From Around The Web