The small town of Obama in Fukui Prefecture, Japan, is known for their beautifully manufactured lacquered chopsticks that are known as the hardest and most stunning of Japanese lacquer chopsticks. Nendo collaborated with Hashikura Matuskan who is known for continuing Obama's celebrated traditional techniques to create a new, modern set of chopsticks that maintain traditional notes.
hanataba (also featured above)
While round chopsticks are normally a little too slippery, overly square ones are also uncomfortable to hold. To create a happy medium, Matsukan increased the surface area of chopsticks in the hand to improve comfort. This resulted in a natural form of a pleated cross-section. When looking at the cross-section, the chopsticks are reminiscent of flowers, much like a bouquet.
jikaoki
The ends of these chopsticks are carefully carved to fine points, so that they don't touch the tabletop when resting, keeping an order of cleanliness.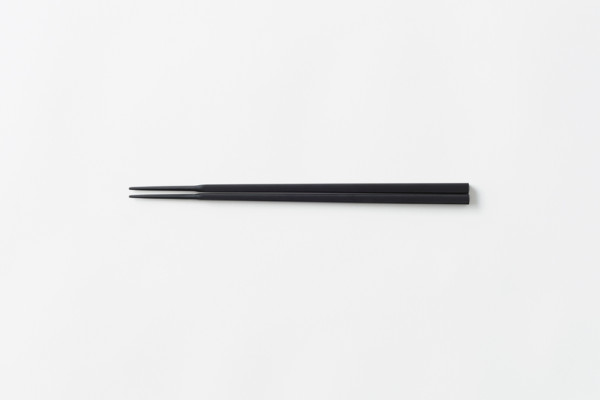 sukima
There's plenty of patterned chopsticks out there, so instead, Matsukan decided to create a pattern in the space between two chopsticks. Like a deck of cards, the chopsticks are carved in a way to create hearts, diamonds, clubs and spades when resting on top of each other. Moreover, they mix and match, so you can use one diamond chopstick as the top chopstick of a spade, or the bottom of the chopstick with a heart. To keep them strong, these delicate wood chopsticks have an aluminum core to prevent them from breaking.
kamiai
Never lose your chopstick again! These chopsticks have magnets embedded in them so that the two chopsticks snap together when fitted to each other. To keep from coming together accidentally when in use, the magnets are on the outside of the chopstick.
udukuri
The udukuri chopsticks are so named because they were made using the udukuri process, where the wood surface is carved away using a metal brush, leaving the wood grain. Then, they are lacquered and polished again to make the wood grain a pattern. This combination of processes allows natural patterns to surface organically.
rassen
While chopsticks are normally paired, the rassen chopsticks act as a single unit. While eating, they're separated into two and then rejoined when not in use.
The chopsticks will be sold at Seibu department stores in Japan exclusively from spring 2014.
Photos by Akihiro Yoshida.

Design From Around The Web