Bentley's connection with top tier opulence and handmade craftsmanship on four wheels is well established and storied, with models like their Flying Spur and Mulsanne already synonymous with the life less ordinary. But the Crewe, United Kingdom automotive manufacturer isn't resting on their hand-stitched laurels, recognizing the brand's reputation, like any luxury name, requires continually conceptualizing and redefining.
Their latest concept car the EXP 10 Speed 6, unveiled at the 2015 Geneva International Motor Show, is Bentley's attempt to connect the automotive brand's motorsport racing past with present day innovations in a more sporty stance. 3D metal printing technology, a powerful yet efficient plug-in hybrid powertrain (details scant at this time), and an expansive touchscreen cabin control display are combined within the package of an aggressively crouching feline profile designed to "challenge competitors and define a new segment benchmark". It's certainly a Bentley we haven't seen before.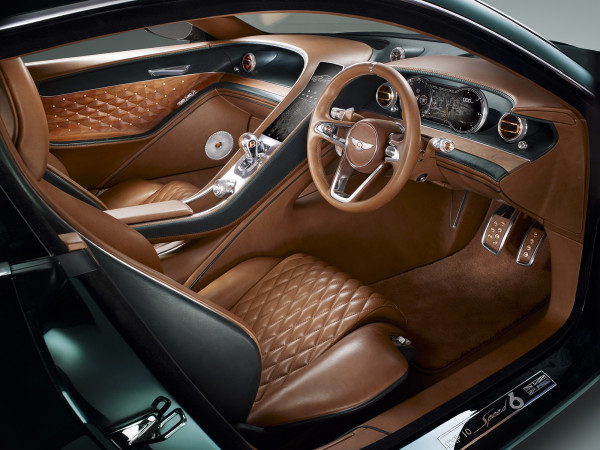 "This is not just a new sports car concept – but the potential Bentley sports car – a bold vision for a brand with a bold future." – Wolfgang Dürheimer, Bentley CEO
Bentley says the EXP 10 Speed 6's muscular athletic surface design takes cues from above…high above…the aerodynamic shapes of aircraft fuselages and wings, sporting a low-hung aerodynamic profile compared to Bentley's traditionally upright stature which extends into the two-seat sports car's interior cabin with its two symmetrical wings spanning the console front. It's hard not to see hints of Jaguar and Aston Martin design DNA in this vehicles profile, but the indulgent interior cabin is unmistakably Bentley with its signature sumptuous craftsmanship.
Bentley CEO Wolfgang Dürheimer has hinted this concept isn't just a design exercise and may be further refined into production as the fifth spoke of Bentley's large spoked wheel of models, joining the Mulsanne, Flying Spur, Continental GT, and Bentayga SUV as the most sporty of the Bentley vehicles. Let's hope so, as this next-gen Bentley vehicle seems poised to give the heritage brand a more aerodynamic feather to add to its cap.