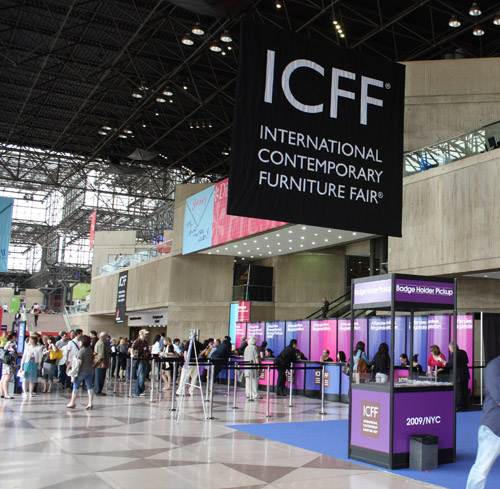 Hello! Back from ICFF 2009 in NYC and I have two huge bags full of press kits and literature to go through. 1.25 days is definitely not enough for this show and I plan on spending much more time in the city next year. If you didn't see, I posted some tweets over the weekend, but it was very hard to do so because I was so busy just touching and looking and oohing. The show was great, although seemed like attendance wasn't what it might have been in past years. Regardless, the atmosphere was positive and friendly. This past weekend, I was super excited to spend some time with Jess, meet up with the fantastic ladies from Design Glut, Filz Felt, and many more!
I am going to do my best to post everything about my ICFF experience this week, so please come back throughout to see what's new and exciting in modern design. I plan on doing roundups and also featured posts. I certainly didn't get to everything, but I did my best to cover the highlights and my faves.
What better place to start than the first booth I was at, Ameico. This is a fold-up changing table, kind of like those you see in public ladies rooms, except much more attractive. It's great for small spaces.
I also really liked their crumply tissue boxes.
Shimna cracked me up with their stuffed bunny:
Furniture New York's booth featured designs from SMC, DYAD, and others.
Michael Iannone's booth did not disappoint. I loved to be able to touch the pieces and see where the drill holes created the beautiful photo-like pattern of the buildings. His pieces really want you to go up to them and feel how they are made.
Miss Print's designs are whimsical and reminiscent of mid-century & retro patterns.
…and this was the moment on day 1 when my camera battery died. So, the entire day I spent walking the floor feeling completely naked without my camera, and with no business cards; I was quite unprepared. However, the good news is that I was able to charge my camera battery overnight and I was fresh and excited to take photos all day Sunday. I have more photos and press kits than I can go through in a day, so stay tuned for lots of fresh content and great new products!