This is a four-part series documenting each day at ICFF, so come follow me along on my adventures! Warning: these posts are long. I took over 150 photos every day, and it was very hard to narrow it all down, so there will be more spotlight posts coming over the next few weeks. Read all ICFF posts here.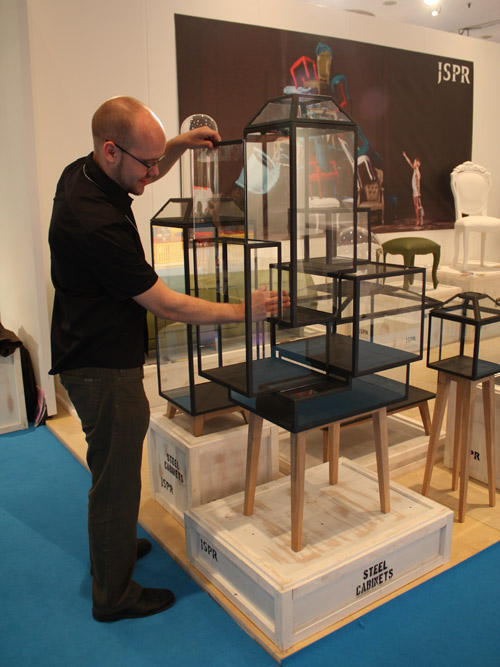 I started out Day 2 at JSPR's booth where I admired their steel cabinet collection, specifically the stacked unit as well as their tree trunk storage unit, really made from a tree trunk!
I loved Sandback's pieces, specifically those round tree tables.
I spent some time chatting with Andrew Graham in the Graham & Brown booth. More to come on their new collections!
Got some great photos of the tiny figurine installations for Marcel Wanders' Baccarat collection.
I finally got to meet MIO, after all these years. They have a few new pieces, including a pop-up wastebasket and bike basket, laptop and ipad cases and a super cool "design your own hat" collection.
I was really digging these Neuron lamps from David D'Imperio.
I was excited to meet Jason Phillips from The Phillips Collection — what a great guy. This new pieces is cast from an old piece of wood, reinventing the media stand.
Artek is reworking an Alvar Aalto chair and making it new again by adding custom Maharam fabrics, created by artists and designers from all over the world.
Design House Stockholm had some great new products, including this "Step" ladder that folds up and can easily be hung on the wall (only 2″ thick!) and this adjustable Box Light. I was more smitten with the Block Light that resembles a regular bulb but when you open it, it's just a teeny tiny bulb!
Amy Helfand's rugs are awesome, but I enjoyed this new sculptural piece that she created with a furniture maker. It reminds me of something that might have been in the house from the movie Beetle Juice.
I also got to meet Cadee Wilder from Kreme, after I'd been drooling over her collection this year.
I enjoyed this particular lamp at the El Salvador booth. It's by Kiu Interiors, who is Claudia Zambrana and Jenny Menjivar.
Also, I visited with the Germans. Boy, that German design is a serious time sucker. I spent a lot of time wandering around looking at everything. They even had two cars on display: a VW called Up!Life and a Mercedes SLS AMG by Werksdesign. The QLOCKTWO was there, the Nook stool, and Demacker's Bucky table too.
And, finally, I fell in love with a toilet. A square toilet called Rêve from Kohler.
In the evening, I stopped over at Design Within Reach for their Emeco /Coke 111 Navy Chair party, and continued on over to Designglut's Uncomfortable Conversations opening. More to come on that fantastic exhibit.
After that, I headed over to Moleskine's offices to chat it up with LOFTwall. Moleskine had some great collections of famous designers' sketches that I flipped through.
Day 3 coming up tomorrow!