And so begins coverage of my trip to NYC for the 2011 International Contemporary Furniture Fair, known as ICFF. Last year, I organized it day by day, but this time I'm going to break it into parts. I'm not sure yet how many parts there will be, but I hope that you enjoy!
One thing to note about this year's fair is that there was a lot of "playing it safe" from designers — that is, creating pieces that will sell well in the market, look beautiful, are well-made, and have a good price point. What was lacking, at least to me, was those few "knock my socks off" pieces that I usually see. I'm not sure if this is because of the economy or lack of availability of new materials… or perhaps we're just in a time of transition? I would love to hear thoughts from those of you who attended the show. While I was a little bummed out, I was excited to see the vast amount of sell-able, quality pieces that you and I can actually afford and put in our homes, so you will see a lot of that over the next week or so.
Phase had all new pieces in their booth – stay tuned for a more detailed post on their new collection.
BRC Designs had a stunning collection of chairs, tables, and rugs made from old materials including circuit boards, blue jeans pockets, and blue jean labels.
Katherine Ladd textiles – great graphic prints.
Wang Jinsheng, whose waterfall record player captivated me last year, was back with another musical instrument. This time a set of drums that were made from old tires and speakers.
Vitra had a presence, but didn't have too many new pieces in their booth. They recently launched a few pieces including a bird sculpture with Ronan & Erwan Bouroullec, the Waver chair by Konstantin Grcic, and the Tip Ton chair by Edward Barber and Jay Osgerby.
Cool candle task lamp by Ali Siavoshi.
Manulution is a Bosnian company that has been making hand-carved wood furniture since 1927. Tiny details, like textured edges and daisies carved in the center of the table makes each piece really special.
Moleskine's lifestyle products will blow your mindbrain. Coming soon to a store near you! New collection includes a pen, reading glasses, and travel bags that are made from the same material as the Moleskine notebooks.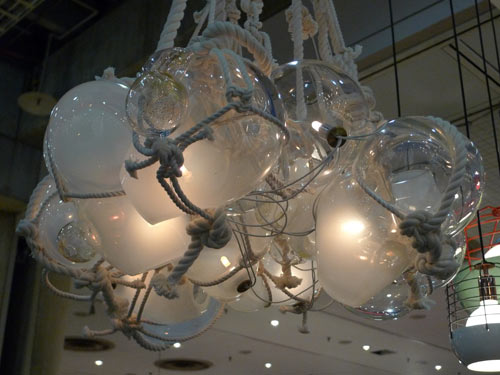 Roll & Hill has some new pieces, including this bubble chandelier, which I really love.
Iglooplay's new Candy Pods look like a lot of fun.
Balanced Design shared some new rugs as well as new fabric colorways.
And, who else could this be but Tom Dixon? His booth was ultra-blinding this year with lots of safety orange, including these crazy bright wide-strapped shoulder bags he was giving away that resembled crossing guard uniforms.
I really like his new lights:
Loved this storage cabinet from Blu Dot. It isn't quite green, not really gray, but a lovely, unexpected in-between color. I also really like the brass hardware, an emerging trend I noticed at the show.
To view ICFF coverage from previous years, visit our ICFF archives.