Holly Aiken, of Holly Aiken Bags, has been cranking out her indestructible bags and gear since its launch back in 2004 and the line has evolved from handbags and diaper bags to a collection that now includes totes, back packs, messenger bags, bike bags, wallets, tech sleeves, cuffs, and even sleeves for your hot cups of to-go coffee.
Above: TAXI (Diagonal) in Plum/Orange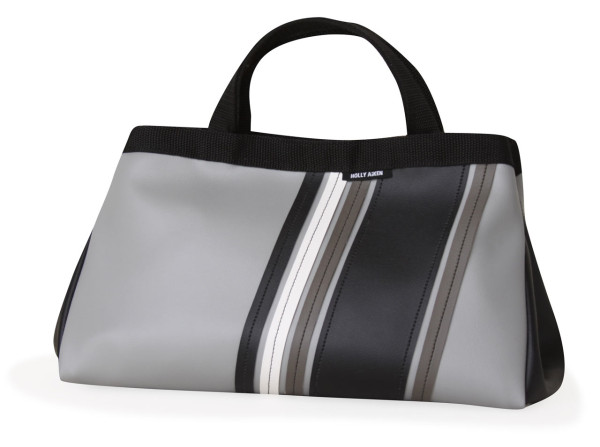 Designed and built in Aiken's very own shop called Stitch in Raleigh, North Carolina, the bags are made using über durable vinyl with designs that include stripes and geometric patterns. Finished off with bold black webbing trim, the designs are built to last and can be perfectly paired with just about anything.
SUB-ORBIT (Diagonal) in Grey/Purple
The slightly retro color palettes are influenced by vintage racing jackets and colors found in your average dime store. Each design comes in a variety of color stories, but if you don't see one you like, you can always order a custom bag.
SUB-ORBIT (Diagonal) in Grey/Olive Green
TURBO (Diagonal) in Gunmetal/Parchment
TURBO (Diagonal) in Parchment/Mustard
HOPPER (Argyle) in Parchment/Orange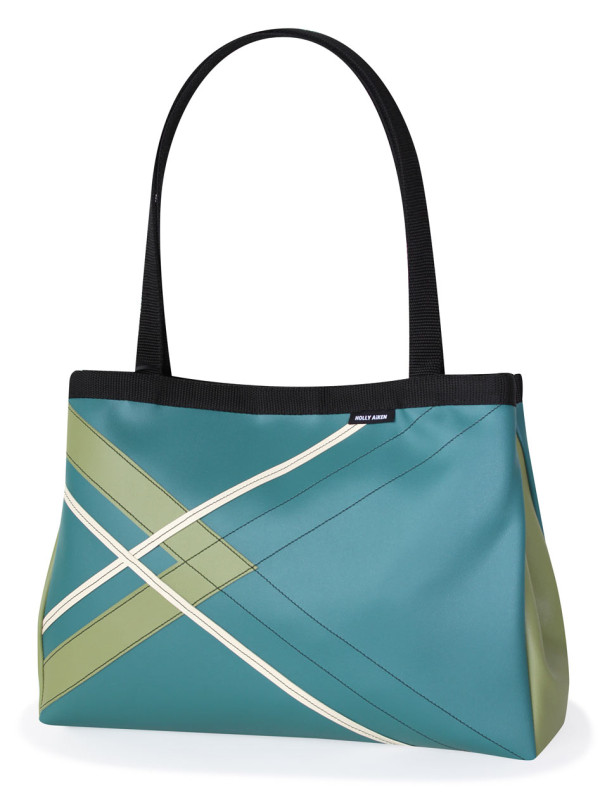 TURBO (Argyle) in Dinosaur/Avocado
TURBO (Argyle) in Gunmetal/Parchment
THROTTLE (Equilizer) iPhone Wallet
AIRSPEED SLEEVES (Equilizer) for the MacBook Pro, MacBook Air, iPad, iPad Mini
BLAST (Daytona) in Black/White