In celebration of the centennial anniversary of the University of Minnesota School of Architecture, Variable Projects designed an installation, called Centennial Chromagraph, that's a life-size representation of the historical moments of the school during their 100-year history. The curvy installation is made up of 100 robotically-routed plywood ribs that are joined together with 8,080 colored #2 pencils.
The project required computational design tools to generate formal and spatial constructions with large quantities of data, in this case, information collected over a span of 100 years in the school's history.
The curves in the piece reflect major historical periods for the school, like leadership tenures, buildings it has occupied, and the colleges it has belonged to. The color of the pencils shows the evolution of the school's degree programs over the years.
The project was designed and built along with students at the school and was constructed over a period of five days.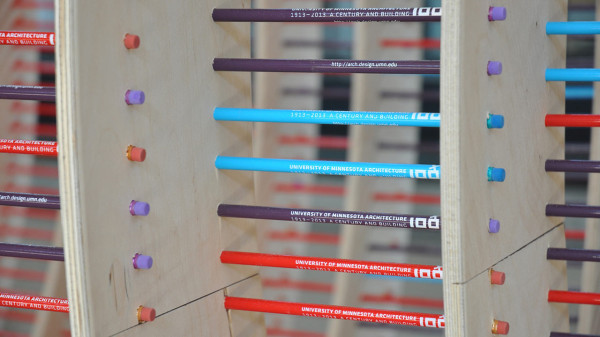 Photos from the school's Centennial reunion party:
Project Credits:
Design: Adam Marcus, Daniel Raznick
Fabrication & Assembly: Adam Marcus, Daniel Raznick, Jordan Barlow, Sam Daley, Kevin Groenke
Computational Design (Catalyst Workshop, March 2013): Nathan Miller
Prototyping (Catalyst Workshop, March 2013): Will Adams, Philip Bussey, Sam Daley, Matthew Enos, Derek Gallagher, Mohsen Ghanbari, Dantes Ha, Hwan Kim, Benjamin Kraft, Wei Liu, Dan Raznick, Stuart Shrimpton, Christina Smith
Centennial Graphic Identity: Kai Salmela