The Interwebs are filled with plywood, from furniture to entire rooms. Here we spotlight twelve spectacular spaces, all featuring the unfinished, historically inexpensive, material.
Above, concrete and pale plywood mingle to perfection in the Setagaya Flat in Tokyo, designed by Narus Inokuma Architects and Hiroko Karibe Architects. It's their own home. We wish it were ours.
House OM in Yokohama, Japan, designed by Sou Fujimoto Architects, has a dining space lined with a plywood wall that pierces a circle in the ceiling. Plywood stairs make the climb, eventually up to the rooftop.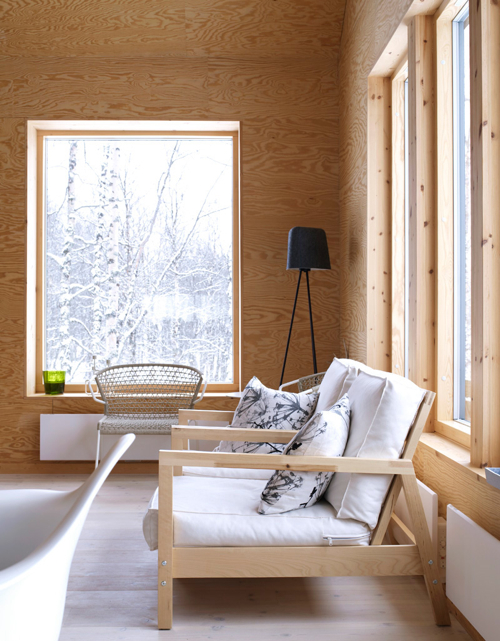 This stark plywood walled room in a home designed by PS Arkitektur seems the perfect place to contemplate the snowy weather.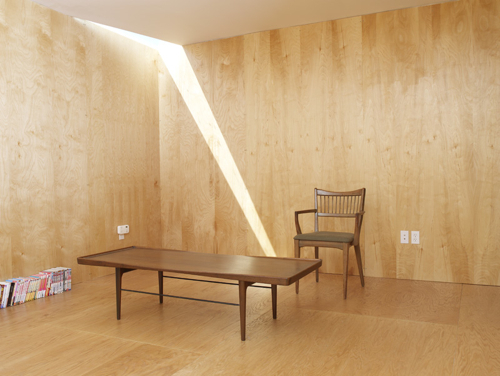 A lone slit of sunlight streaks down into the plywood paneled, monk-like space by Uni Architecture of Cambridge, Mass.
Chartier-Corbasson Architects designed this Parisian loft. While the flooring is traditional slats, the sideboard and stairway is made of intensely grained plywood.
Another view of the same space by Chartier-Corbasson Architects, as seen in LoftLife. A plywood kitchen. It's rather an unfinished look, do you like it?
The built-in plywood bookcase is also a room divider in another space in the Setagaya Flat designed by Narus Inokuma Architects and Hiroko Karibe Architects.
Another Japanese dwelling, this is a a soaring plywood space, with a freestanding modern tub, wall-mounted sink and spiral metal stair. Stunning! Designed by Japanese studio Architect Cafe this two-and-a-half story contemporary home, which was completed in 2010, is located in a densely populated neighborhood about 30 miles outside Tokyo.
Plywood is the perfect medium for an office; this one is outfitted with units by String Shelving.
The bloggers behind Hindsvik at Home redid their master bedroom themselves, with plenty of plywood, from the floor, to the nightstands, and up the wall. Check out the DIY and tutorial here.
Davor Popadich's home, designed by Pattersons Architects, was featured in its entirety in Dwell. We get a taste of it here, with the plywood and concrete kitchen. Love!
The Toronto shop Mjölk, which sells classic and current furniture  and hand crafted goods from Scandinavian and Japanese designer, has a floor of large sheets of plywood.
Can't get enough of the unfinished look? Check out StyleCarrot's 57 Rooms with Plywood Walls, Ceilings, and Floors.