I was lucky enough to meet and interview Sjoerd Vroonland while I was in Amsterdam recently. He is Moooi's youngest designer and the man behind the Extension Chair.
Could you start by telling me a bit about the Extension Chair?
I transformed chairs by looking at how people use them. The most literal one is a chair that you can hang your coat on – people going to a restaurant often put their coat over the back of their chair and I transformed this by combining the chair form with a coat stand form. There were some initial problems – when you put a really heavy coat on it, the chair would fall over, so we decided to put some weights on the chair, so it's really functional.
Originally I was going only going to make this one, but when I started working with Moooi, they wanted more functionality, so the chairs would be more useful for hotels and restaurants. They asked me to create different functions. I did a lot of research and came up with lots of ideas – somewhere to do your make-up, a chair with a bird cage in case you want to bring you bird to the restaurant with you…! We ended up with really functional pieces for a restaurant – one with a small hook for a ladies bag and one with somewhere to put a 'reserved' card. 
Where did the original idea to transform chairs come from?
It was really from research into how people use chairs. I saw people putting their coats over the backs of chairs… and I just copied the shape of the upright on the chair back again and again to extend it upwards and put some hooks on it and then it was ready – it came really quite easily. Then I saved it on the computer and put it away. I showed it to a couple of people just to talk about it, not to make it, but everybody was really excited about it and said: "You need to do that, you need to do that!"
How did you conduct the research?
Just sitting in bars and restaurants watching people!
What made you choose the Thonet chair as the base for the design?
I asked myself which kind of designer I wanted to be, and through doing research I decided to specialize in making chairs, because a chair is really a product that you can do several things with. A chair is a piece of craftsmanship; it's about comfort – you really get in contact with it, so it's really really personal, but a chair is also a story-teller – you can tell a story with your piece and it can become a 'design classic' – cabinets or tables are less likely to become classics or icons of their time. Doing the research into what makes a chair a classic was really interesting. And I'm a furniture maker, I'm a craftsman and that's the reason I started with chairs, because you tell different stories with them.
Thonet was really the pioneer of bending wood, and it's such an iconic, recognisable shape that still endures. It was really amazing what he did with bending wood, he really inspires me. That's also the reason I started with doing this kind of chair. It's the same shape, but I'm using different wood, and different materials, and adding new functionality.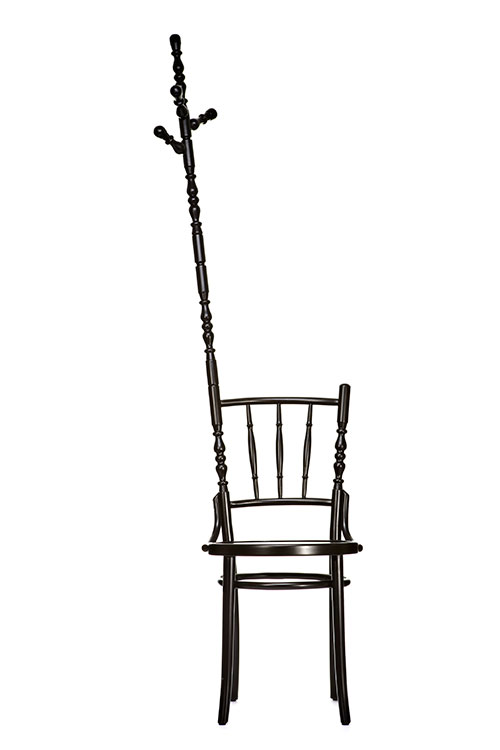 I asked myself the question: is a chair purely functional? Is it a showpiece and a visual story? Or is it an expression of technical know-how and therefore representative of its era? I deconstructed 19th and 20th century design classics and translated the craftsmanship of the pieces into new materials to develop new techniques.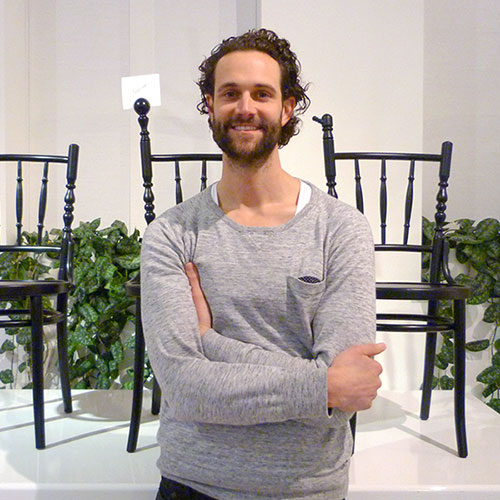 Where do you find inspiration?
As a designer I'm constantly researching craftsmanship to innovate and integrate new materials and production techniques within the designs. We explore and research a lot which leads to a common thread in our design process instead of following trends. We have integrated concept chairs in our work, which gives us the inspiration for the final Vroonland collection. I create a lot of concept chairs, and then afterwards I make them more functional. 
How would you describe the design process you go through?
My collection starts with a conceptual stage where no concession is made towards comfort but only on visual design and silhouette – concept chairs. At this stage I chose certain materials, which allows total freedom of form. This is followed by a complete and final design where function demands its share. 
What is good design?
A good designer adds meaning and quality to his design. Through research into the history and origin, a designer is able to influence the future by giving opportunities to translate the use and perception of a product in a good way. As a designer I want to show that craftsmanship has a future, without using mass production as a starting point and compromising on quality and technology.
What else are working on?
The saddle stools are inspired by leather bike saddles. The more you sit on them, the more comfortable they get – they mould to the shape of your bum! We made high stools and we'll use them for bars and restaurants, and smaller ones to use at tables.
I'm now busy researching for more pieces for Moooi. A rocking chair and an armchair, but we're still discussing those. The mirror hanging inside the beads is also new.
With thanks to Modenus and BlogTourCGN sponsors, Miele, Blanco, Mr Steam, Du Verre Handware, Axor and NKBA.

Design From Around The Web