Sunglasses, like matching socks and self-control around sweets, seem to be one of those things that go missing with frequency. But losing sunglasses may soon become an outdated occurrence thanks to embeddable iBeacon Bluetooth LE chips manufactured into eyewear frames, a technology certified under Apple's MFi (Made for iPhone/iPod/iPad) program allowing users to monitor and map missing sunglasses.
Australian eyewear startup, Tzukuri, is staking out a niche in the highly competitive eyewear market with Bluetooth Low Energy enabled sunglasses capable of actively notifying wearers when they've forgotten their shades anywhere they go.
An iOS app sends out push notifications at 16, 32, and 50 ft. distances any time sunglasses are taken outside a designated perimeter away from home or workspace (during those times, notifications are silenced).
In instances where sunglasses do go missing, the app can help track their location using a map showing their last location, similar to Find My iPhone (Tzukuri's Allen Liao cites a range of 25 meters/82 feet once within the vicinity of the iBeacon chipped sunglasses).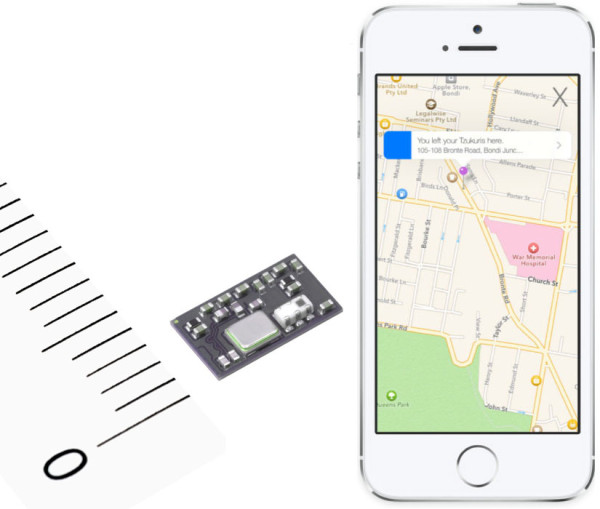 Those worrying about any intrusive designs can rest assured the technology is practically invisible, with iBeacon chips inside each Tzukuri sunglasses so small, they can be powered by an integrated solar cell for worry-free use. A steel core wire run inside and along the arms to reinforce the frame's strength while also doubling as an antenna for the beacon.
Tzukuri plans to launch with six designs, each acetate sunglasses handmade in Japan and fitted with polarized, anti-scratch lenses with 100% UV protection. Models are inspired/named after six style icons: John Fitzgerald Kennedy's Cold War cool, Tom Ford's fashion world chic, Gregory Peck's iconic Atticus Finch, John Lennon's counterculture style, Grace Kelly's classic sophistication, and Truman Capote's signature intellectual presence.
Pre-order information will be announced at the Tzukuri site soon, with plans for delivery late this year, beginning of 2015.