Following on the heels of our house tour, I received an email from reader Jared John Fisher. He said, "the floor-to-ceiling windowed wall with beamed ceiling is not only Cliff May-ish, it also brings to mind another favorite architect, Donald Scholz of Toledo, Ohio. (Google him)." And so I Googled. I Googled all morning long, getting little work done. But it was completely worth it.
Apparently this Donald J. Scholz decided to start designing and building homes for GIs in under the name Scholz Homes. He wasn't even a trained architect or engineer! However, he was very influenced by some big names like Mies and FLW, which you can see from his window-heavy designs. He designed tons of prefab houses, apparently selling tens of thousands to distributors, but his California contemporary ranchers are the ones that I'm most focused on. Scholz was named one of the 20th century's most influential figures in the residential building industry by Builder magazine in 2000. Although he sold his company, it continues to live on under the name Scholz Design.
You can read more about Donald Scholz here and here.
I started searching for other homeowners who have a Scholz California ranch and discovered a few on Flickr and this modern gem in northern NJ. The fact that the latter was located in NJ got me really excited to know that the Scholz homes had reached my home state. But – wait – it gets even better!
Later that morning, I had a chat with my neighbors, who are mid-century/atomic era collectors (their house is AMAZING). If anyone would know more, it would be them. I mentioned Scholz and a lightbulb went off. Believe it or not, a friend had given them a Popular Mechanics article that mentioned Scholz's homes, as well as the Scholz catalog, which is called The Famed Scholz Design Collection.
Here is the July 1957 Popular Mechanics cover and photo of Scholz California contemporary (bottom right). How funny is that flying car on the cover (apparently by 1967 we'd all have one!)? The article was on prefab homes: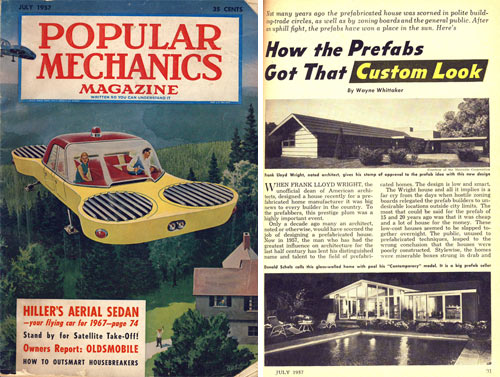 Here are some shots of the California contemporary collection from The Famed Scholz Design Collection: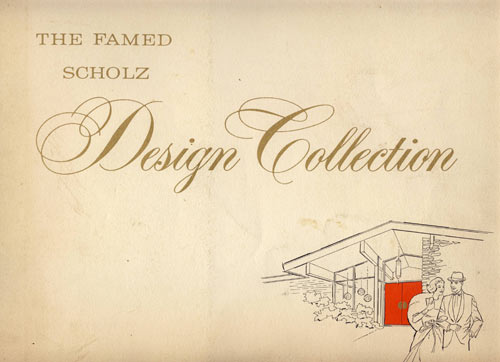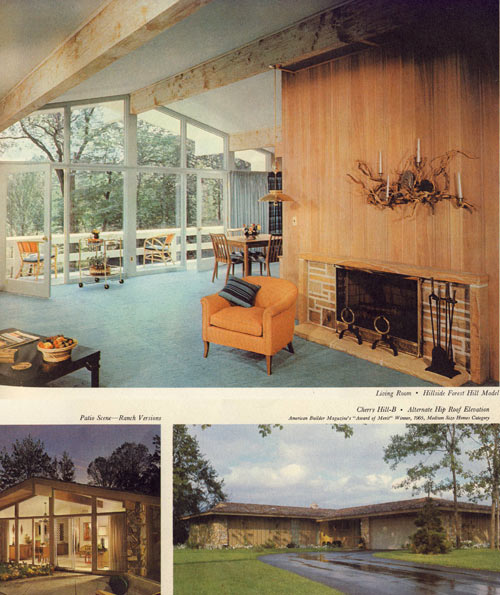 That one above looks like the one from Boonton, NJ.
Anyway, when I started to get super duper excited was when I noticed that a few of the models were named "Cherry Hill." My town is named Cherry Hill. The catalog includes floorplans, which were extremely helpful because — believe it or not — I live in the "Cherry Hill Deluxe." I think my neighbors live in the "Cherry Hill B." There are a few very minor differences between this floorplan and my own home, but it's pretty spot on:
Click any of the floorplan images to see them larger.
This is actually how mine is laid out:
You can see it compared with my floorplan. Pretty close, huh?:
The key differences between the original floorplan and my own are the following:
– The 3rd and master bedroom have been combined into a suite and is slightly enlarged.
– Our living room does not bump out in the back.
– Our kitchen has been expanded into an eat-in kitchen.
– Our garage has been converted into a family room with storage and a smaller garage has been added. In fact, we knew that this had happened because there is the original siding and window openings on the inside wall of the garage. The garage also looks as though it was a carport that had been enclosed (in other words, it needs some structural work). We have a hunch that our home was one of the model homes and the original owner decided that they wanted to enlarge the home by converting the garage and adding a carport. From rumors in the neighborhood, the home (and many others on our street) was a doctor's office. My currently office and laundry room had been where he would see patients (on the original floorplan, this is called the "maid's room"), and patients would enter through the "service entrance."
Needless to say, I'm pretty convinced that I live in the "Cherry Hill Deluxe" designed by Donald J. Scholz built sometime between 1957 and 1960. I'm not really sure exactly how I can verify this information, but I think some of my neighbors could perhaps point me in the right direction. I love a good mystery, especially when the result is this intriguing! Glad I could share it with you.