For this month's Design Store(y), we talked to James Turner, founder of Glimpse – a collective for creative people who want to use their skills for good – about their decision to open three pop-up stores with a difference. As of the first weekend in December, you can step into Choose Love in London, New York or, new for 2019, Los Angeles, go on a shopping spree, and leave with nothing but the warm fuzzy glow of having done something good. Instead of adding to the literal, mental, and environmental clutter that increasingly seems to define the holiday season, every purchase goes straight to Help Refugees, a grassroots charity that supports more than 80 projects across Europe, the United States, and the Middle East. When you buy a child's coat in one of the three stores, a child refugee in Greece, Iraq, or Syria gets a coat. You leave with nothing but a beautiful card which you can gift as a token of your choice. This is holiday gift-giving with real meaning.
Why did you pick this city/neighborhood/storefront?
Choose Love stores are about bringing compassion to the heart of major cities around the world. London was the first one in 2017. Last year we opened in New York, and Los Angeles felt like such a natural progression for this concept. Help Refugees are the driving force behind all this – they support these incredible refugee organizations around the world including on the US / Mexico border, so it feels very relevant in California.
Where did you get the name for the store?
The 'Choose Love' name came from Katherine Hamnett, the iconic fashion designer. She donated the name and logo to Help Refugees a few years back, when they were just starting out. It has since turned into a meme of sorts: a positive, defiant message which people are spreading and sharing organically, by wearing the t-shirts, coming to the stores and posting their support. It's an amazing thing to be part of, because it feels like this message has tapped into something that we can all believe in and proud to be associated with.
Has it changed much since it opened? How?
The concept has stayed pretty much the same. Every single item in the store represents a similar item or service for a refugee. When you buy a child's coat, a refugee child will receive a coat somewhere in the world. It's really important for us to stay true to that concept as it's so direct and simple. But refugees also need non-physical items like mental health support and safe spaces for women. So we've had to find ways to represent these items in the store, and we now use hand-made quilts and artworks from people who have benefited from these services to help tell the story.
What's one of the challenges you have with the business?
To be honest – and this sounds like a brag – the main challenge is scale. We believe that more and more people are becoming tired of shopping for the sake of it, tired of buying stuff they don't need, or presents they don't like. Choose Love is offering a positive alternative and making it joyful and celebratory. The main challenge is how we bring this concept to more cities to help more people express their compassion. We would love to open UK stores outside London, and explore how Choose Love might work in other countries around the world. But the stores are staffed entirely by volunteers, many of whom spend time in camps or supporting refugees themselves, and we want to make sure that this doesn't turn into a big global franchise without that human element. That's so important and it's very different from a traditional commercial model.
What other stores have you worked in before opening this one?
None – this was my first!
What's your favorite item in the store right now?

There are literally no bad choices in Choose Love – every single item is a winner. But the 'safe spaces for women' item is both beautiful and massively important. If anyone is stuck for what to buy, I always point them in that direction.
What is this season's theme/inspiration/story?
Our overarching theme this year is called 'Love has no borders'. We decided it was time to be bold and clear in the message, at a time when vanishingly few of our leaders seem willing to do so. Our design director Mike Andrews created a Rorschach-esque graphic of continents facing each other and it works so well. Design-wise, we've chosen a very bright, 90s feel this year which is joyful and unexpected. There is no reason that you need to use dull, muted colors just because you're talking about a humanitarian issue. Choose Love is about people helping other people – it is about hope and love and compassion. Our ethos at Glimpse is that charity doesn't need to feel like charity – it can be confident, uplifting and aspirational.
Are you carrying any new products and/or undiscovered gems you're particularly excited about? 
This year we have something called a "Bundle of love', which is a collection of items to provide warmth, shelter and dignity to people living in camps. For £100 you can buy a tent, tarpaulin and pallet, hot showers and washing facilities, boots, sanitary products, and a month's supply of diapers. That's an incredible boost to someone in dire need and the best use of £100 I can think of. These bundles are a fairly new concept, but we think people will love them.
What has been a consistent best seller?
The child's coat, because people can pick it up and imagine what it's like to raise a child in a freezing cold and exposed refugee camp. Using the language and format of retail to encourage empathy for refugees is so important to the store experience. It is amazing how emotional it can be simply handling a pair of boots or a pack of diapers, and imagining what it would be like to leave your home and everyone you know, to set out for an unfamiliar new country.
Does the store have its own line? If not, any plans for it in the future?
The Choose Love t-shirts are always a massive hit, and this year we are expecting some very special editions. We also have a series of Print Club prints, which are absolutely beautiful – and have a very special "Love Has No Borders" print, which I definitely want in my house.
Any special events/exhibits/pop ups/collaborations coming up?
This year we're working with some amazing DJs and artists who are performing in-store throughout the month of December. I can't reveal too much yet, but there will be some really big names popping in at various times. In the London store, our friends The Flying Seagulls will be in residence for at least one of the weekends. They provide playtime and clowning for children living in refugee camps, and will be bringing their energy and hilarity to everyone in-store too.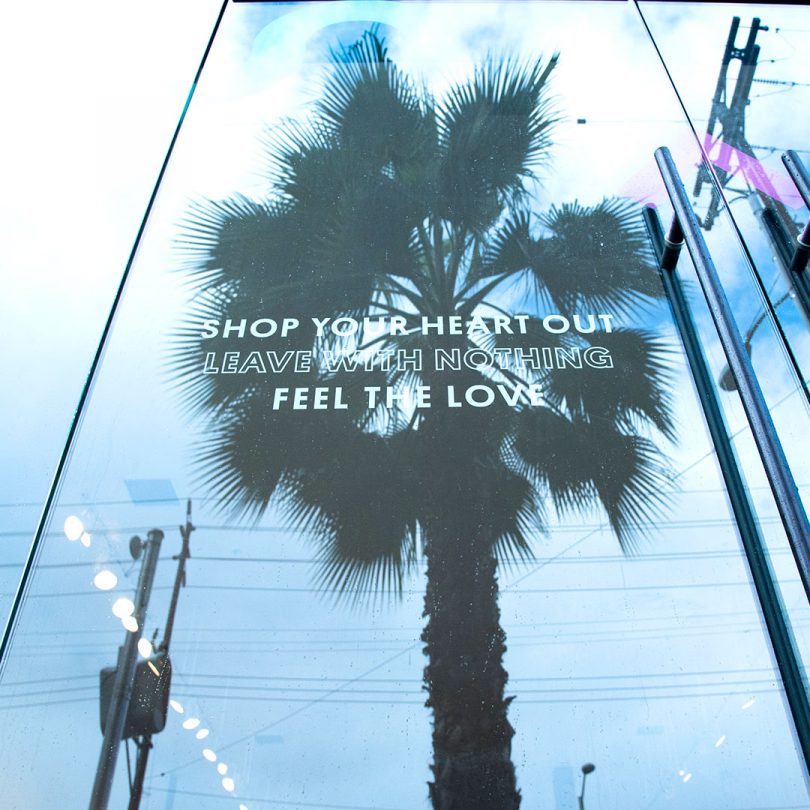 Do you have anything from the store in your own home?
The concept for the store is 'shop your heart out, leave with nothing, feel the love,' so that's not really the vibe! But, of course, I do have a t-shirt.
What's next for you and your store?
We want the concept to spread around the world, becoming an annual fixture in towns and cities everywhere. Imagine if every high street had a Choose Love store, where you could learn about the refugee crisis and do something practical to help. Imagine if the holidays – and every other festival – became more about compassion than consumerism. This doesn't just have to be about refugees either; there are lots of opportunities to use empty retail spaces to encourage empathy and repurpose all of the energy and creativity of commerce into something that really matters. And if that all sounds impossible, come into one of the stores and see for yourself.
What's one lesson you've learned since opening your store?
People are generous, warm and thoughtful. Beyond the gloom and doom in the media, the polarization and the shouty headlines, most of us are really moved by the refugee crisis. We want to help, but we often feel confused or overwhelmed by the scale of these problems. And it really helps if someone can break things down into smaller pieces, offer us something practical to do, and make it as engaging and creative as they possibly can.
If you could give one piece of advice to someone who wants to follow a similar path to yours, what would it be?
Don't be afraid. When you're working from your heart, when you really put energy and meaning into your work, people will respond to it. To borrow from Talking Heads, 'we are creatures of love'.