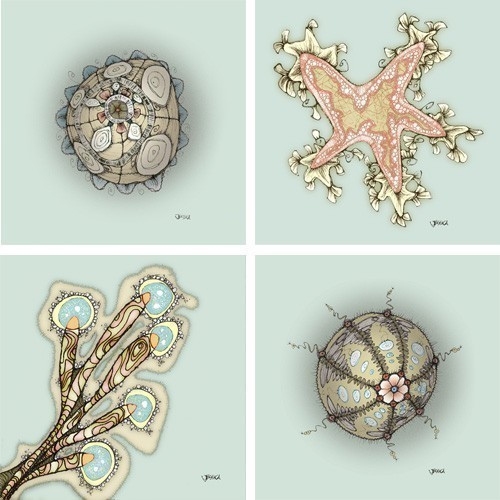 I've been watching Jessica Doyle's online art career now for quite some time. When she sent me a bucketful of stuff in the mail, I was so excited and surprised when I tore open the package. I've been eying her beachy urchin print now for quite some time, and I'm honored to own it along with its companions. I plan to put them in my bedroom in my mom's beach house.
Her art is different than most: her squiggly lines and doodle-like combined with colored pencil and Photoshop bring it all to life, as though these were plants and trees and creatures you might see in a magical world.
I was even more surprised to get some of the little teeny tiny note cards. These are the cutest things I've ever seen. I think I can write like 4 words in one of them, but they are so adorable. As an artist, I find her success extremely inspiring.