Located in Itaewon, Seoul, South Korea, sits a quaint, Nordic-inspired cafe designed by Nordic Bros. Design Community. kafé Nordic is located within a residential neighborhood right near the newest hot spot, Comme Des Garcons. The tiny spot is built into a semi-basement in a residential space so it was important to stand out. In order to do so, they went with a bold, bright yellow exterior to catch the passerby's eyes.
The design team brought forth the idea of going with a "Nordic" theme, which includes: enriched life, humor, artistic expression based on functionalism, new lifestyle, and smaller but stronger.
Inside, they brought in a total of 27 patterns of tile from the collaboration between Patricia Urquiola and Mutina, which partially cover the floors and a portion of the wall space. The rest of the floor is covered in wood.
They used a combination of designer chairs, including ones from Emeco, Flototto, Hay, and Ton, in various colors creating an eclectic and casual space.
The chairs are mixed with Candlestick Tables by Yong-Hwan Shin, Light Au Lait sconces by Ingo Maurer, and Lune du Matin house candles, also designed by Yong-Hwan Shin.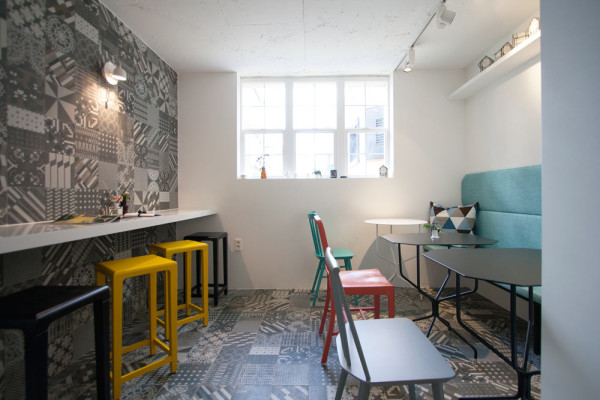 The owner suggested using the octagon, hexagon, quadrangle, and circle in the design so the menu incorporates those shapes. You'll also notice them around the space.