Kartell's Salone del Mobile stand showcased an iconic range of products, deconstructed. Every phase of the creative process was on show, from initial sketches, through prototyping to the final manufactured products.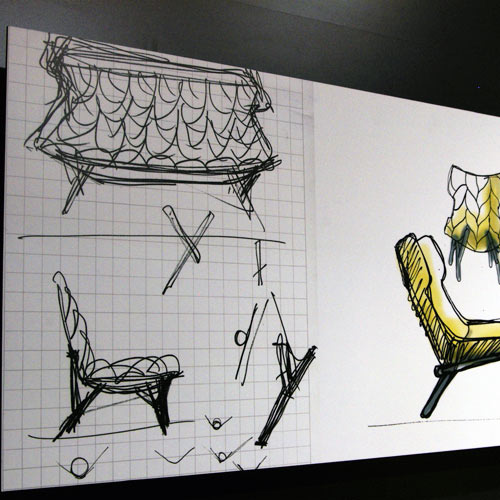 Products from Philippe Starck, Piero Lissoni, Ferruccio Laviani, Patricia Urquiola, Tokujin, Yoshioka, Mario Bellini, Ferruccio Laviani, Eugeni Quitllet and Rodolfo Dordoni were included in the exhibition. I have chosen the Foliage chair and sofa from Patricia Urquiola to follow.
Brands are often very protective and secretive about what goes on behind the scenes, especially big brands like Kartell, so this exhibition was a bold move, and very exciting to see for anyone who is interested in the mechanics of the design process.
Patricia Urquiola's Foliage range was inspired by nature, and intended to look as if each piece simply "grew" from plastic, with "leaves" resting on a framework of "branches." Seeing the design process like this makes you realize how much more complicated it is than that to create something which ends up looking so simple.
The seats are made from polyurethane foam padding with quilted fabric upholstery, and the legs from tubular painted iron. I loved seeing all the markings and comments on the prototypes where they were being adjusted until they were just right.
I think by revealing so much of what goes into the design and manufacturer of a product, Kartell has actually been very clever. It's only by understanding the process and the effort it takes to bring products like these to life, that people will appreciate their true value.
The top-stitched embroidery covers the entire surface, including the back, to make sure it looks gorgeous from any angle.
And it's now joined by a smaller, and very cozy, armchair. Both come in a choice of  yellow, green, turquoise, red, grey, black or brown upholstery with legs in white, black, red or acid green. I want a yellow one with acid green legs!
Our trip to Milan was supported in part by Airbnb.com.