A part of the PTT Family, an Indonesia-based hospitality and lifestyle group, the Katamama is the perfect blend of modern artisanal design and Balinese aesthetics. The boutique hotel in Bali is a collaboration between an extensive team: PTT Family CEO and entrepreneur Ronald Akili, PTT Family creative team, architect Andra Martin, and Singapore-based design practice Takenouchi Webb. These collaborators took careful measures to incorporate Indonesia's artistic and traditional heritage into every detail of the site. It truly takes a village, but the end result is an authentic hospitality experience that stays true to the land and culture that surrounds it.
The boutique hotel has 58 suites whose interiors are filled with bespoke furniture, fixtures, and art that support the local communities and craftspeople of Indonesia.
The exteriors are comprised of raw Balinese temple bricks, teak, handmade tiles from Java, and terrazzo made on site. The lush landscaping is a direct reflection of the tropical environment and lifestyle of the island.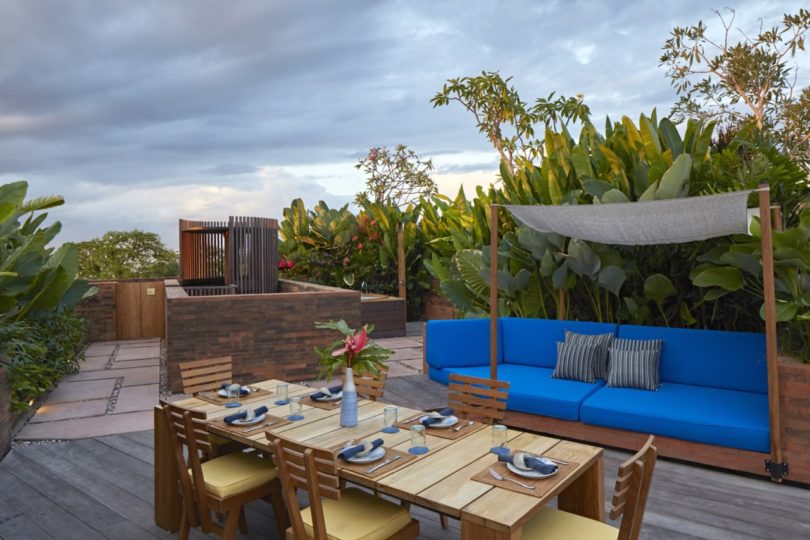 Rooftop suites, anyone? These two-story suites are an escape into rustic luxury as they feature internal access to a rooftop garden, expansive ocean views, a spa bath, rain shower, separate dining and lounge areas, and their own bar. The ultimate indulgence is the crowning Katamama Suite which boasts two bedrooms, a private rooftop garden, and of course, incredible views of the Indian Ocean.
Vacationing on a budget? Each of the 58 suites offer some sort of outdoor space, like balconies, secluded gardens, or individual pools.
Within the hotel property itself is the MoVida Bali restaurant that offers Spanish tapas cuisine. The famous restaurant has a cult-following after creating five sites across Australia and best-selling cookbooks. This is the restaurant's first foray into international hospitality dining. Head Chef Jimmy Parker spent months sourcing the best organic ingredients from local producers and fisheries. Inside, handmade furniture and hand-woven fabrics from local Balinese artisans outfit the interiors for a rustic, laid-back way of dining.
Also within the hotel is the Akademi bar, created by award-winning mixologist Dre Masso who infuses tropical Indonesian ingredients into his specialty cocktails.
What: The Katamama Hotel
Where: Jl. Petitenget No.51, Kerobokan Kelod, Kuta Utara, Kabupaten Badung, Bali 80361, Indonesia
How much? Suites run approximately $287 a night
Highlights: If you're looking to enjoy a luxurious hospitality experience that's reflective of the Balinese lifestyle and culture, this is the hotel for you.
Design draw: From outside to inside, every facet of the hotel has been carefully considered to infuse Balinese and Indonesian design aesthetics into a contemporary hotel. From furniture, fixtures, artworks, exterior materials, and landscaping, every inch of the hotel plays into this authentic, contemporary hospitality experience.
Book it: Visit the Katamama Hotel.

Design From Around The Web