There are people out there who know kitchens, but not like Susan Serra, CKD, CAPS, author of thekitchendesigner.org and scandinaviankitchens.com. She curated this lovely kitchen design trends roundup for us from the 2011 LivingKitchen Show in Cologne, Germany.
The intricate and modern lace work of the Gutmann Arte hood is functional beauty with a sculptural quality.
By Blanco — Foreground: Stunning integrated stainless steel countertop and sink. Note the thin (great new look) countertop, chic drain cover and seamless design. Background: Cutting board in slotted section at right of sink slides into sink section to a) conceal sink mess when entertaining b) serve as extra counter space c) serve as cutting board over the sink (it is in two pieces).
Laminate textures are hot! Not normally seen on cabinetry, it's a new look and often seen in neutral shades.
Trend Alert: Thick countertop sections, a mix of natural materials with greige and/or strongly textured laminates (faux wood) as seen in the oven section. Greige is the neutral color story from lights to darks.
New technology by Hettich — MOVE THE BURNER LOCATION WHERE YOU WANT IT! It's developed for appliance manufacturers and changes cooking forever!
Highly stylized pink hood by Tecnowind — hoods as sculptural decorative pieces were seen throughout the show.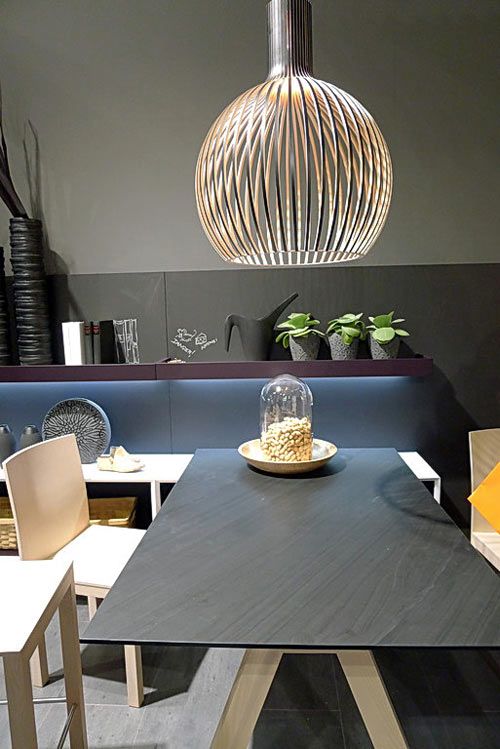 Trend: Dining tables with angled legs. Contrast in colors and materials which accentuates an organic feeling.
Cool fridges by Liebherr.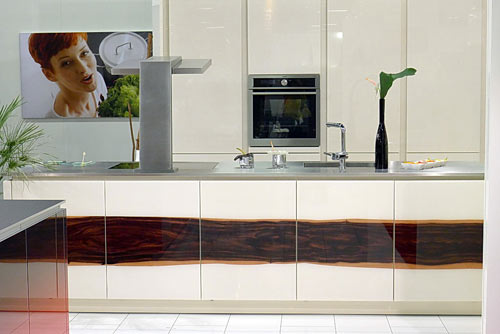 Glass cabinet fronts in an artistic and organic motif create the strongest visual statement and feels warm at the same time!