After its first successful launch in Singapore, the Millennium & Copthome Hotels (M&C) decided to open its second M Social hotel in Auckland, New Zealand. It looked to Hong Kong-based Aedas Interiors to transform the previous Copthorne Harbour City Hotel into a modern, four-star hotel that appeals to millennials (the M in M social stands for millennium, after all) and contemporary travelers.
As in its name, the M Social Auckland was designed for guests to mingle and socialize, so Aedas Interiors created public spaces that merged and combined with each other to create engaging spaces. Upon entry, guests are welcomed into the double volume lobby that celebrates the kiwana lifestyle. A media wall houses nostalgic paraphernalia while the pendants hanging above are styled like the swings commonly found in front/backyards of Kiwi homes. Playful Scrabble tiles are used on the columns as directional signage.
Greg Farrell, Executive Director at Aedas Interiors, shares the thinking behind the design concept:
We tried to weave a sense of fun, humour, art and culture—all key aspects of kiwiana—into M Social's interior design. Creating sense of place along with social and community based spaces were key focuses for our team at Aedas Interiors. Here, we injected social spaces that connect the community with a dynamic new look for a 70s building that at the same time continued to develop M Social's aspirations and brand DNA.
Offering Asian-based cuisine, the Beast and Butterfly is separated into open kitchens, intimate banquets and tables, and a front al fresco terrace that faces the water. Aedas Interiors cultivated a nautical theme using the vertical wooden fins used throughout the space to diffuse light and the ding pendants by Latitude 22N interwoven with crisscrossing ropes.
Three design themes were used for the guest rooms: a continuing nautical theme, a nature & fauna theme, and a container-inspired theme.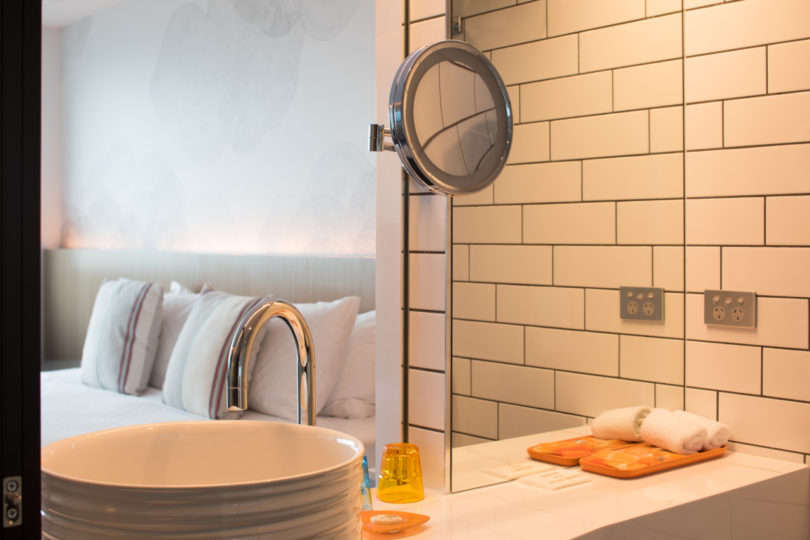 Aedas Interiors chose natural oak wood to create a warm atmosphere and used reclaimed hardwood whenever possible. The studio alsoworked with local furniture maker Furnwerks to create custom furnishings & fixtures and sourced the textiles locally with the help of weaver Maxwell Rodgers, Elitis, Clarke & Clarke, and Bretano. All the signage was custom designed by Aedas Graphics.
What: M Social Auckland
Where: 196-200 Quay St, Auckland, 1010, New Zealand
How much? Rooms start at approximately $115 per night.
Highlights: Aedas Interiors renovated the hotel to celebrate the kiwiana lifestyle while also creating bright, engaging spaces for social interaction.
Design draw: A reference to its waterfront property, the M Social Auckland's playful nautical theme is prevalent upon entry through the guest rooms.
Book it: Visit the M Social Auckland