At the Design and Art of the Free University of Bolzano, faculty members Claudio Larcher, Eugenia Morpurgo, and Alvise Mattozzi challenged 20 young designers to completely reinterpret the classic pencil sharpener in a project they call La Matita Rossa. Using the tactile nature of the pencil sharpener, the designers created completely new interactions through design, but still creating the same result. Here are some creative new ways to sharpen your pencil:
Alessandro Bussi created a flat-packed, build it yourself pencil sharpener named Porygon.
Designer Barbara Rossaro turned the act of sharpening pencils into a ritual through creating fire with Set Fire to the Pencil.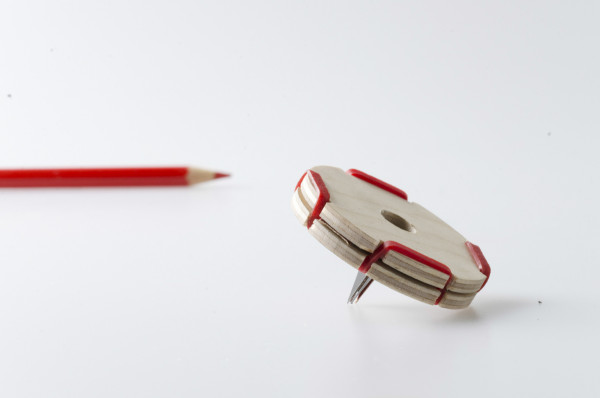 Georgia Bergamin's Softpin still has the same action of a classic pencil sharpener, without the violence of using a blade on wood.
The Sharplat, a handy table sharpener made by Giovanni Dori, only really requires one hand in the act of sharpening.
Sharp'n'mark, by Giulia Lamerata, is a small sharpener that can be taken with you no matter where you go.
Faces is a geometric, wearable accessory pencil sharpener by Jessica Rosa.
Laura Piccinini gives nod to traditional carving techniques with Pencil Carver.
As its name alludes to, Finicky Sharpener's Kit is a kit that satisfies the most fastidious of users who always need the perfect pencil tip.
Fun and playful, the Paper Airplane by Lucrezia Faraci is a metal blad that folds like origami into a little airplane that sharpens your pencils.
Plane pencils utilizes a different kind of plane — a carpenter's wood plane to sharpen the pencil.
Slightly reminiscent of Pacman, Martino Bizzi's Mario is a silicon sharpener that is comfortable to handle while it sharpens pencils.
Sharpenering by Michela Franch is a stainless steel ring that also sharpens pencils.
See them all here.