100% Design has been going since 1994, almost a decade longer than the wider London Design Festival, which launched in 2003. But it's as contemporary as ever with exhibitors selected by a panel of design experts to ensure quality and relevance.
It's primarily a trade show, but is open to the public on the last day. It's a more mainstream event than the East London contingent, but offers a glimpse of the coming year's trends and a chance to spot design stars of the future.
Here are my top trends for 2012…
I mentioned the trend for metal furniture, which almost looks as if it's been drawn in 3d, in my post on Tent London, and this outdoor furniture from Kirv is another example. It also reflects the current trend for bright colors carrying across from fashion.
By putting materials and function at the center of their design ethos, Pottinger+Cole have created a refreshingly clean, simple and perhaps even slightly innocent looking range of furniture.
Maybe as a backlash against all the warm, natural materials of recent months and years, there are signs of a more industrial aesthetic creeping in, particularly in some of the material choices, like this coffee table from Mossa IDD.
Meanwhile, embracing natural materials and craftsmanship, new design collective Young & Norgate presented a beautiful range of furniture with a mid-century vibe, alongside a longboard from Devon-based firm Loki, which is made from reclaimed furniture.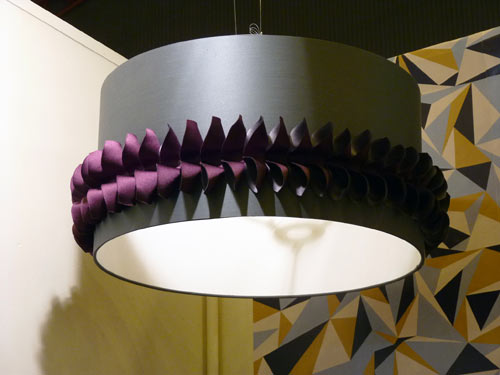 Lorna Syson, featured last year, is going from strength to strength with a new range for 100% Design.
More bright colors from Paul Kelly; this nest of tables is currently handmade in Paul's workshop and he's looking for a manufacturer to get it into full-scale production.
And finally, my absolute favorite at 100% Design was three-year old furniture and product design brand, & then, featuring cushions from Imogen Heath. Their work is somehow timeless and yet utterly contemporary, homely and comfortable and yet oozing sharp design features. Definitely one to watch!
Katie Treggiden is covering the London Design Festival for Design Milk. Katie writes confessions of a design geek, winner of mydeco's "Best Interior Design Blog in Great Britain" and has just released her first book Interviews, a collection of 18 interviews with designers.

Design From Around The Web