Gerald is a paper dog who was created in 2008 as part of a rebranding exercise carried out by British design studio Lazerian. Since then, it seems Gerald's taken on a life of his own.
Lazerian founder Liam Hopkins collaborated with fellow 3D designer Richard Sweeney to bring Gerald to life. The original Gerald was made from a flat paper pattern, which was hand cut, folded, and glued.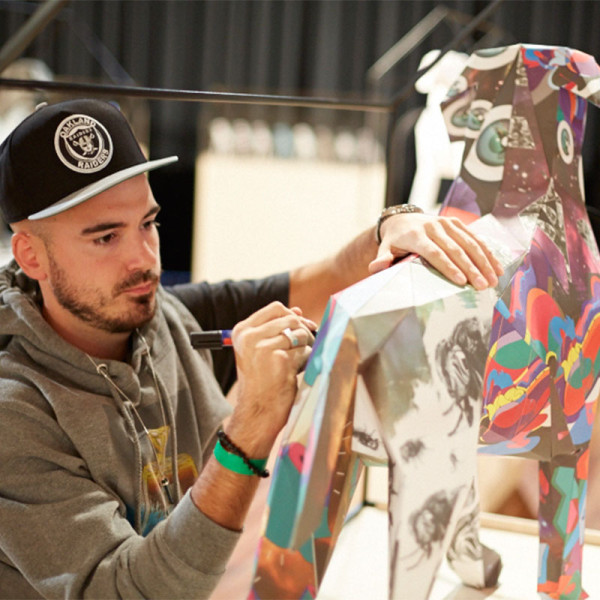 By 2009, the small version of Gerald had his own printable blueprint and could be made from nine simple paper components by anyone handy with a stanley knife and a bit of glue. Large Gerald still required studio assembly from 88 components to enable him to stand on all four paws.
After a selling out of flat packed Geralds on the first day of 100% Design 2012, Liam and Richard started experimenting with decoration of the flatpacked dogs and soon Dazzle and Pixel were born. Dazzle has a simple monochromatic stripe, while Pixel featured a different pastel color of every panel. The idea for designersblock 2013 was created.
Liam sent off his now refined design for the flatpacked large Gerald to his favorite artists, designers, and illustrators in 2011, and in 2013 they started to return home, now distinctive dogs created by some of the finest mark makers in the world.
Gnarly Dog by Famous When Dead was one of my favorites. He says: "My work is a creative response to my industrial surroundings, inspired by my children and the urge to progress beyond the every day and the mundane."
I also liked 170 year old paper specialists James Cropper's eponymous James. They say: "The paper is both canvas and art. The color is a rich earthy beige, the embossed pattern inspired by Moroccan leather hide. This is without doubt a Gerald you will want to stroke."
Daren Newman's Old Tricks New Dog was inspired by: "the Victorian era and their use of marbling in end papers and the covers of Victorian literature, which created one-off designs. As Gerald is made from paper and he has a story to tell, it seemed fitting to use this technique to individually decorate each panel."
And finally Uberkraaft's Scat Topography was created using a "multi-layered, spontaneous stream of drawing with Oriental flavors, playing with traditional decorative motifs and patterning … and grotesque and psychedelic imagery."
Our trip to the London Design Festival was supported by Airbnb.com.