I have loved Sian Elin's work since she launched at Tent London last year, so it was great to see her back one year on still going strong—and even launching new products. I thought it was about time I found out a bit more about what makes her tick. We talked eastern inspirations, what defines good design, and favorite colors…
When you were five years old, what did you want to be when you grew up? And now?!
I have always loved drawing and designing since I was a kid, so what I get to do now is my childhood dream. Growing up I wanted to be a few things: an interior designer, an artist, a designer… Now all I want to do is to create interior products, which is what I do, so that's ace!
What inspires your designs?
My designs are inspired by Eastern patterns, and I combine them with Western and Scandinavian sensibilities. I take Islamic and Moorish designs and abstract them, redraw them, and re-color them. I use graphic shapes with a mid-century feel. I try and travel a lot and go to see new things. That's a great way to stay inspired and feel excited about all the pattern and color around you. If I have a creative block, I'll either get very frustrated and over-work something – or I'll just take a break and move onto another area of my business. Sometimes I work on a new design very slowly over the course of six months, just so I can experiment a lot, think about what I want to achieve, and have the head space and time to develop my thinking around and behind an idea.
Talk me through your design process.
I hand draw all my designs, then scan them in, and get the repeat working by touching them up on screen. Then I color them in Illustrator, and then they go to print.
Describe a really good day and a really bad day in the life of Sian Elin.
A good day for me is when I create something great and I'm really happy with it, or I make good sales or receive great feedback. A bad day is when something goes wrong with the manufacturing of a product, which, it invariably does!
What did it mean to you to be part of the London Design Festival?
It was really important for me. It's a fantastic platform to showcase new and exciting ways of looking at things, and I think it's really important to represent British design. London is at the forefront of world class design, and at just a stone's throw away, it seemed silly not to take part!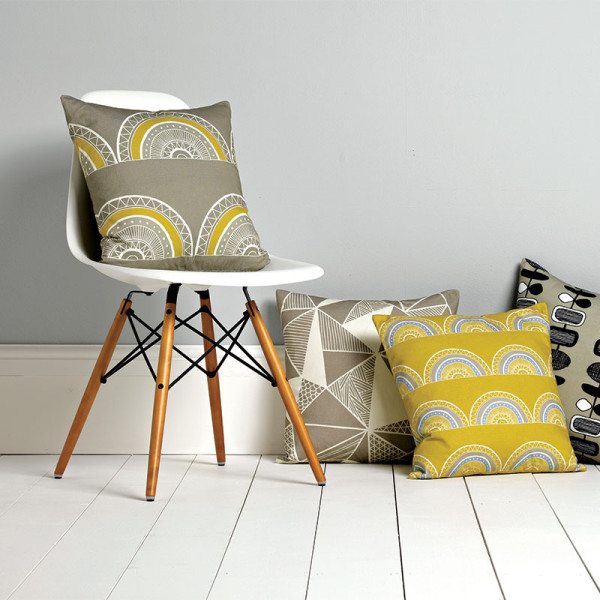 What defines good design?
Good design is when color, shape, and form all come together to create something beautiful that stops you in your tracks.
What are you most proud of?
Leaving my job and building my business over the past year. Tent was my one year anniversary, so I am very proud of that!
What advice would you give to a new designer?
Keep it simple, and do what you do really well. And my top trade show tip is to know your prices off by heart and have a price list to hand out to prospective stockists.
And finally, what's your favourite colour?!
Yellow and grey – such a pleasing combination.
Our trip to the London Design Festival was supported by Airbnb.com