Situated on a steep slope overlooking Skaha Lake in Kaleden, BC, Canada, the Lefebvre-Smyth Residence comes with a minimized footprint to keep the foundation from being too complex. In order to maximize the square footage, CEI Architecture designed a larger second floor that cantilevers over the sharply inclined property.
Check out the views of the lake below!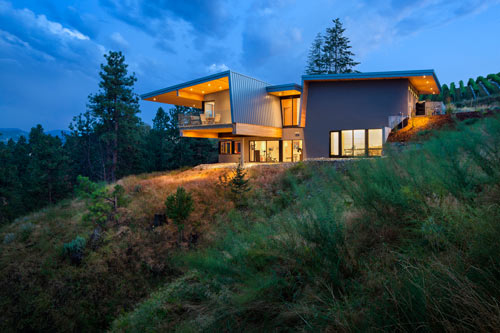 The 3,000 sq ft house features a slew of sustainable features like storm water management, water efficient landscaping, and use of regional materials.
The modern structure comes with a sloped roof that really defines the overall design of the home. The slope angles down to the south to help block the blistering summer sun from overheating the living space. That slope is matched over the other side of the house making it cohesive.
Photos by Ed White.
[via ArchDaily]