Situated on Cornell University's campus in Ithaca, New York beside OMA's Milstein Hall is Lightwave, a sculptural bench designed by After Architecture. The landscape-inspired design acts as an exterior installation that also provides public seating in the heart of the campus.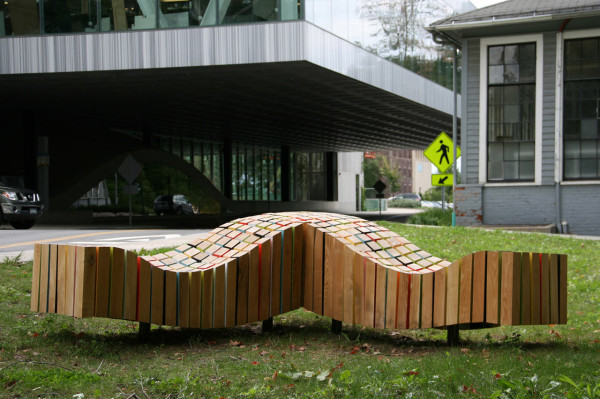 Reframing the idea of public seating, this colorful and wavy bench brings about a highly accessible, long-term public art installation to the forefront.
The campus of Cornell sits between gorges and a glacial lake and the constant motion of the water breaking through the rock is what inspired the wave-like surface. The bench is made up of a grid of square timbers that undulate creating a variety of seating alcoves. The interior sides of the wood are painted in bright colors that glow at night with the help of embedded lights.
The form is made up of 264 black locust posts that were CNC milled, sanded, painted, and assembled into the grid.
The project was funded in part by the Cornell Council for the Arts.