Barcelona-based Xavi Relea and Jordi Rizo launched Obvious, a new brand focused on making limited edition products made by local artisans and craftspeople. The first collection consists of white and wood tabletop accessories that are both simple and functional, made with techniques like metal sheet bending and wood turning.
When you think of a tray, you think of a flat surface. The Wavy Tray organizes objects in its rippled surface while also holding the Pen Pot and the Tiny Pot.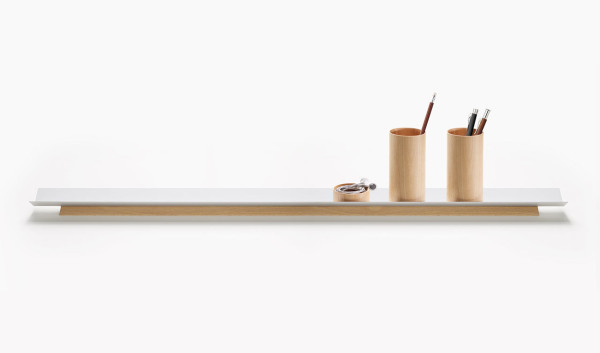 A V-shaped metal tray sits on top of a wooden surface to hold your stuff. The Long Trays also hold the Pen Pot and the Tiny Pot.
The Pen Pot doesn't sit flat – it sits at an angle on a flat surface or upright when its placed in a Long Tray or the Wavy Tray.
Tiny Pot is a container designed to hold small objects.
The Table Lamp looks as if it's made out of a sheet of paper instead of steel.
The Desktop Box comes in two sizes that perfectly fit sheet paper and business cards.

Design From Around The Web