Link is an infill home designed by The Ranch Mine in Phoenix, Arizona. Aptly named "Link", the redesign of the 2000 square foot home had to pass the The City of Phoenix Historic Preservation Committee before it was accepted to the historic Pierson Place neighborhood.
The designers reinterpreted the existing houses by abstracting the scale, form, and massing of existing homes into a more contemporary fashion. Therefore, Link became a home that connects to both the storied ground it sits on and the neighborhood.
The living room has floor-to-ceiling sliding glass walls that allow the homeowner to completely open up to the outdoors, effectively merging indoors and out.
Both the dining room and living room have the ability to transform into an open air pavilion.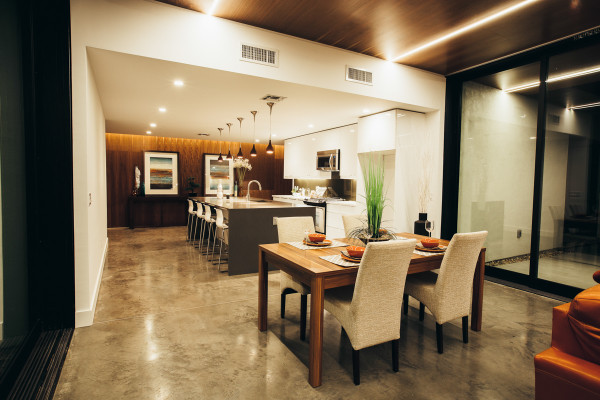 The bedrooms and bathrooms are located in a more private part of the home.
Large overhangs provide shade during the hottest part of the year, especially for the hot desert nights. LED lighting and complex framing construction keep the home energy efficient.

Design From Around The Web