The wide open expanse of a loft-type space can sometimes be daunting, not knowing how to break the space up into zones or for separate uses. There's also the occasion of wanting a bit of privacy within that type of wall-free environment. Brussels-based adn architectures was brought in to make the space, Loft FOR, function for a couple that desired an efficient use of space.
Built within the large, rectangular loft are two metallic structures that contain the spaces that needed a door that could be shut such as the bathroom and laundry room, with the upper floors being a bedroom and an office.
Besides the built-in structures, three other pieces of "furniture" were brought in – a long kitchen cabinet, a wall of storage cabinets, and a library. The kitchen spans a long wall underneath a bank of windows, providing lots of counter space.
Between the two structures, they've added a wooden dining table that warms up the mostly white interior.
The tall ceilings provide the perfect room for the double-height volumes. Simple staircases lead to the second floors of both.
The exterior of the volumes are clad in perforated metal so that light filters in while still providing privacy on the inside.
The walls are made of terra-cotta blocks that are painted a stark white, while the raw concrete ceiling remains unfinished.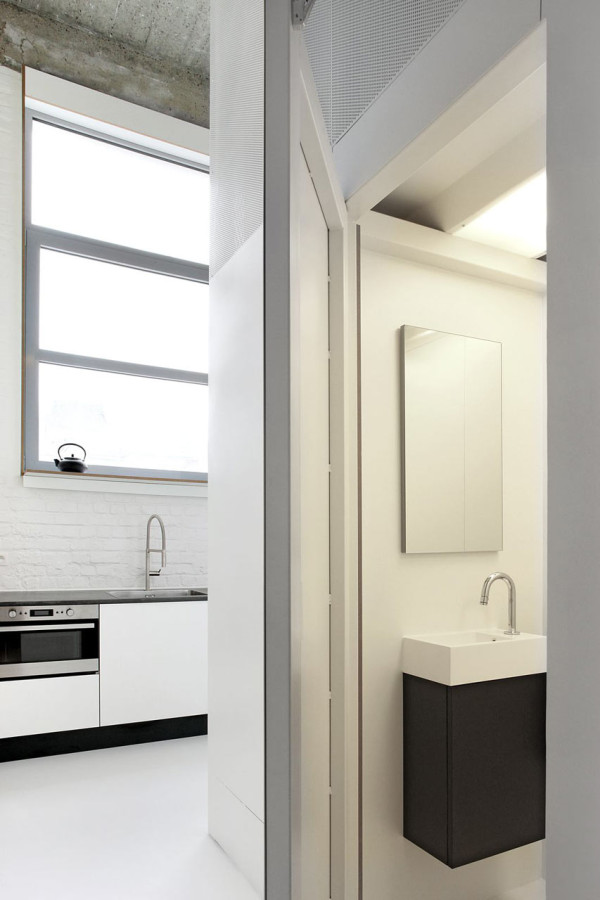 Photos courtesy of adn architectures.