Pereen d'Avoine of Russian for Fish, along with her partner Mat, converted this London studio with a small sleeping platform into a bright and airy one bedroom apartment, all for only £30,000. Housed in a converted bakery, the former studio lacked privacy for the busy couple so d'Avoine redesigned the space to house a large open living area, a separate bedroom with en suite bathroom, a guest bathroom, and a private work area on the mezzanine level.
Having lived in the apartment prior to the remodel allowed d'Avoine to assess what they needed in the space which helped tailor the minimalist style throughout.
A large window was installed into the kitchen to increase light flow, especially in the kitchen which is located at the rear of the apartment. Moving the kitchen to the back of the apartment, near the entrance, allowed for a sizable bedroom to be built just off the living room.
The walls are painted a crisp white and a bold checkered floor is carried throughout the entire space to visually connect the bedroom with the main living area. The squares are done on an angle helping to create the illusion of space by drawing sight lines the length of the apartment.
Large folding doors separate the bedroom from the living room when privacy is needed and can be opened up if they need more room.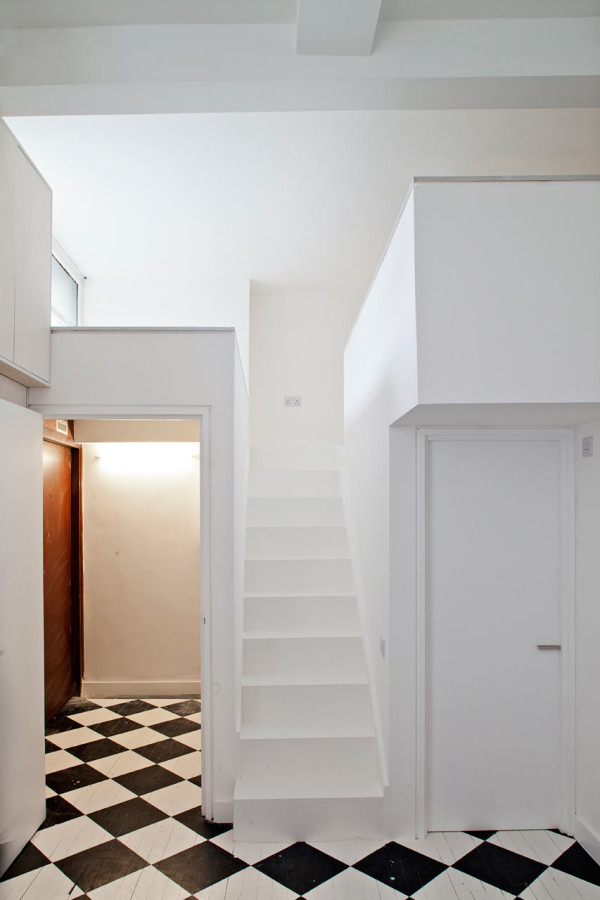 These stairs once led to a sleeping platform but now that space is used as an office.